In this article I am going to talk about what IPTV is and how you can use it with VLC on Linux mint.
Internet Protocol television is the delivery of television content over Internet Protocol networks. This is in contrast to delivery through traditional terrestrial, satellite, and cable television formats. 
Unlike downloaded media, IPTV offers the ability to stream the source media continuously. As a result, a client media player can begin playing the content almost immediately. This is known as streaming media.
It can be considered as live television with live media. You can watch your favorite TV channels and News channels using IPTV if they supports this feature.
Using IPTV you can watch your favorite channels. Let's now jump directly to using IPTV on Linux.
Install VLC on Linux
VLC is an extremely useful media player not only for linux but for windows as well. It supports almost all modern and old codecs.
You can even watch live streams using VLC or you can also start your own stream on your local address.
It also supports IPTV streams, which is a pretty cool feature.
VLC has some other really cool features too which I will talk about in a separate article. Before we can continue with playing IPTV streams on VLC first we obviously need to install VLC.
So go to VLC official website and choose your linux version and follow the given instructions to install VLC. If you get an Deb file then follow this tutorial on installing Deb file.
Alternatively, go to the Software center of your Linux OS and search for VLC media player. You can easily install it from there with just one click.
Also Read: How to Type in Hindi or any other language in Linux mint?
Let's now proceed to setting up IPTV on Linux with VLC media player.
Get an IPTV playlist
To use IPTV we first need to get the stream URL. Generally you would not want to add just one Channel but instead many of them.
Here, IPTV playlists come into play. A list of IPTV channels are combined into one playlist, you can search for a free playlist on the Web. It will end with a m3u extension.
If you don't want to add a lot of channels and instead want to watch just one channel then you can also use a single URL instead of a full playlist.
A single IPTV stream URL will have an m3u8 extension. Here is a list of 1000+ IPTV channels that are freely available worldwide:
Download Playlist One by clicking on the button above and then pressing Ctrl + S to save. List two can be easily downloaded from GitHub.
Lets now setup IPTV on VLC.
Playing a single URL
Search for VLC media player in your Linux menu and launch it. You can also launch it from the terminal using command VLC.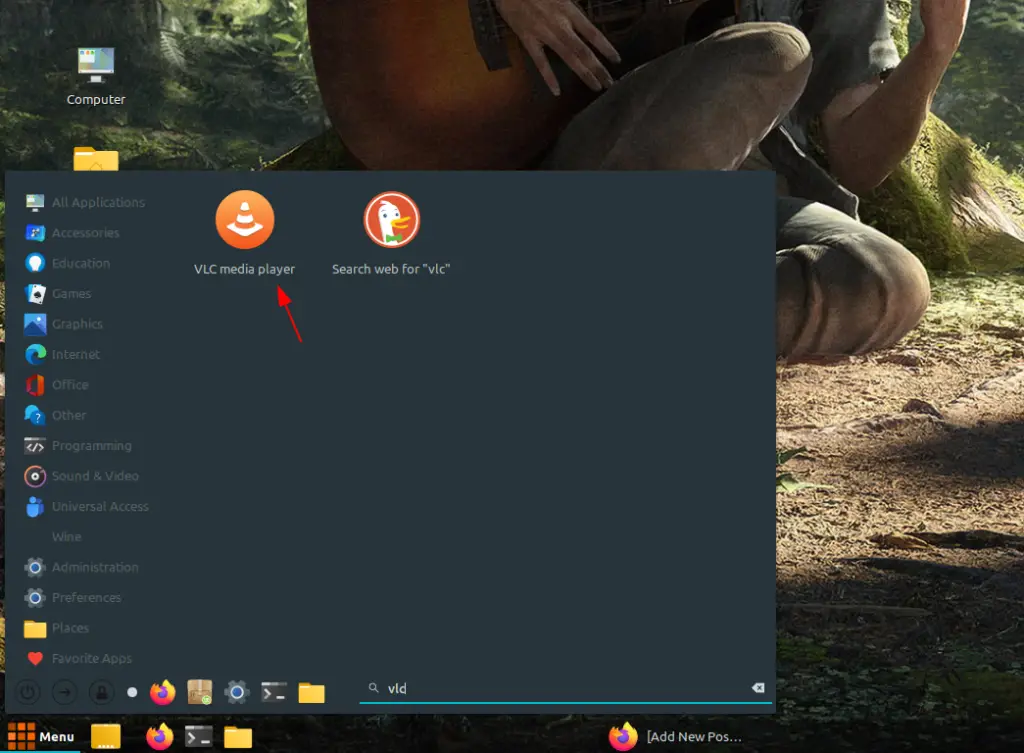 Once you have launched VLC. Under Media menu click on Open Network Stream.
Also Read: Install Wine on Linux – A complete guide
This will open a pop-up from where we can enter the URL of our stream and play it.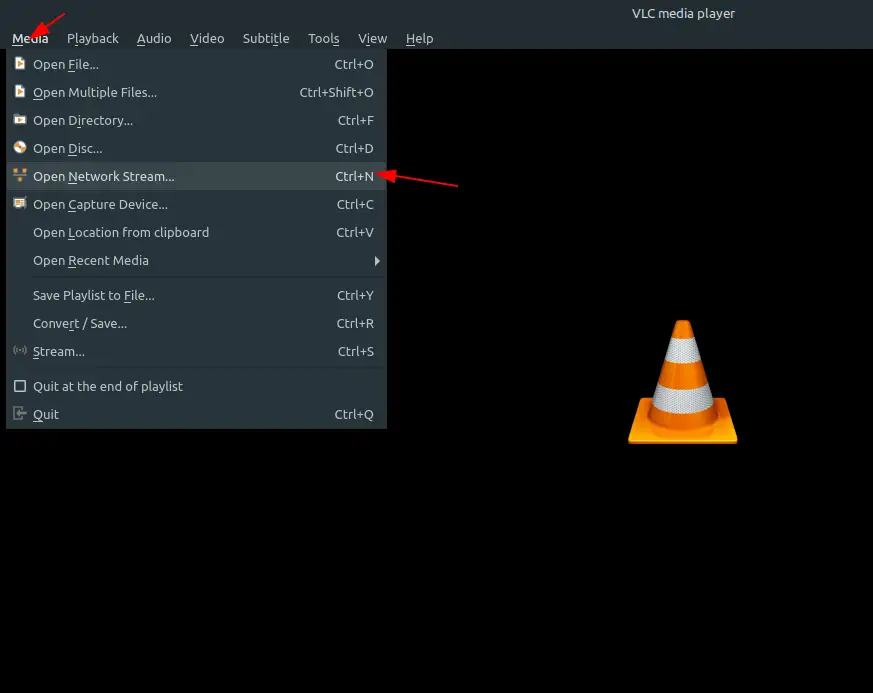 In the screen that appear after clicking on network stream, Go to Network and enter your stream URL and click Play as shown in the image below.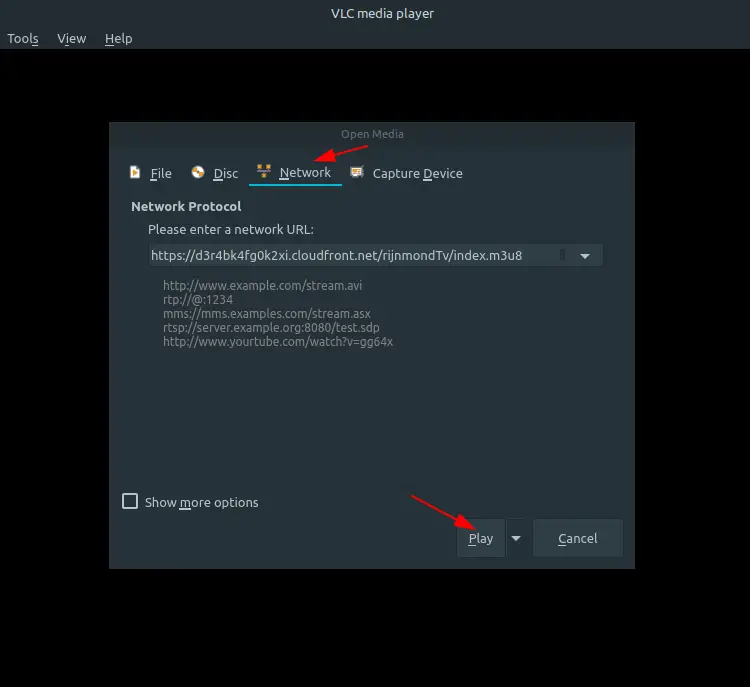 Now after loading a bit, your stream will start to play. You can not pause this stream because it is a continuous stream.
Also Read: Create disposable mail directly from your Terminal
Using an IPTV playlist with VLC
Select and right click on the playlist that you downloaded in above step and choose Open with VLC media player.
This will open the selected playlist in VLC and will play the first entry by default.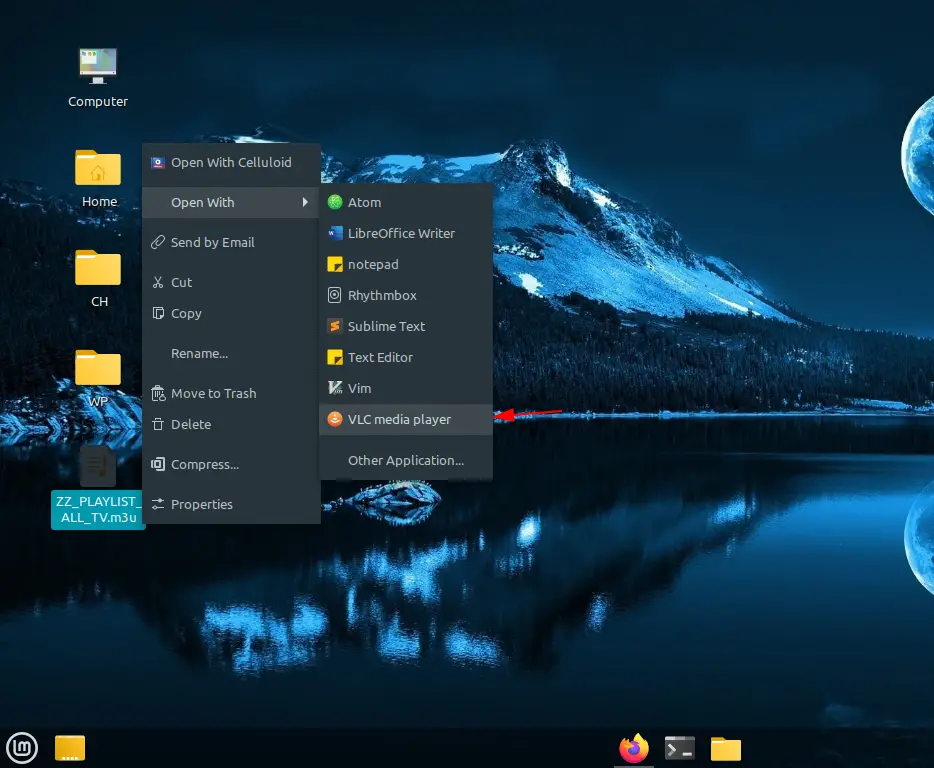 Now lets play a different channel, click on the Queue icon as shown in the image below.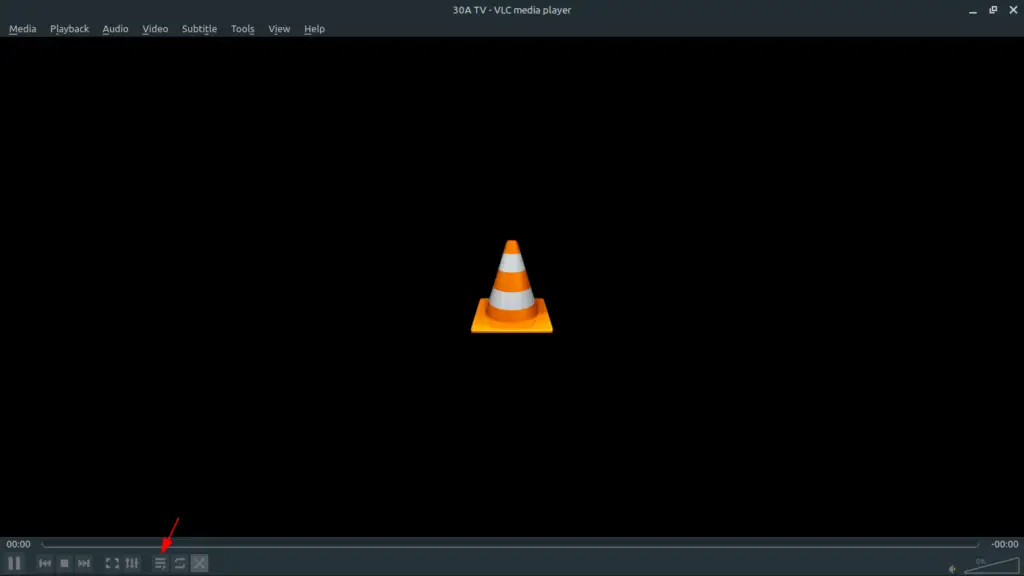 Here you can see all of your channels. to search the channel that you want to watch use the search bar on the top right corner.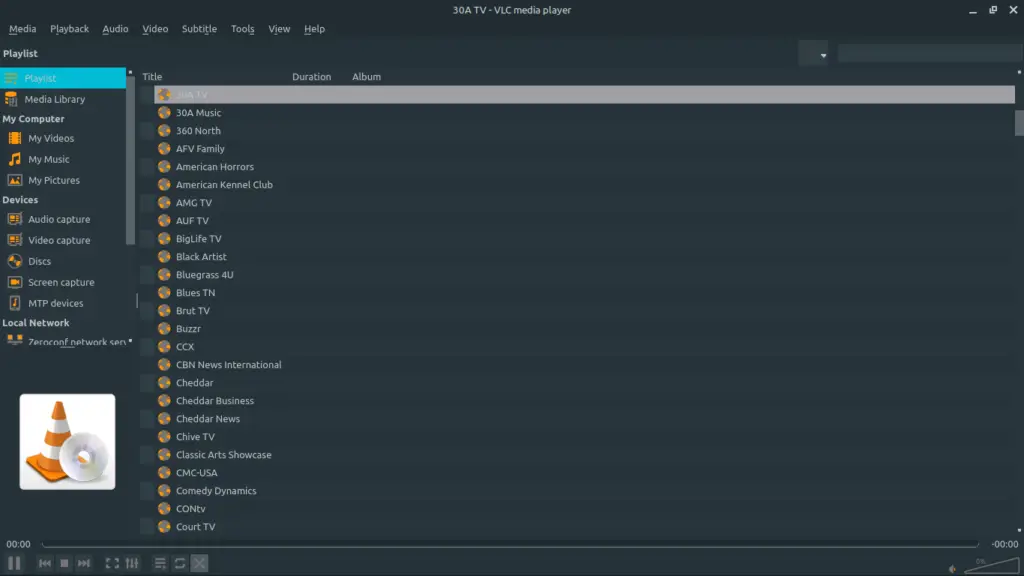 To start playing the channel that you just searched for, right click on it and click Play or simply double click with your mouse.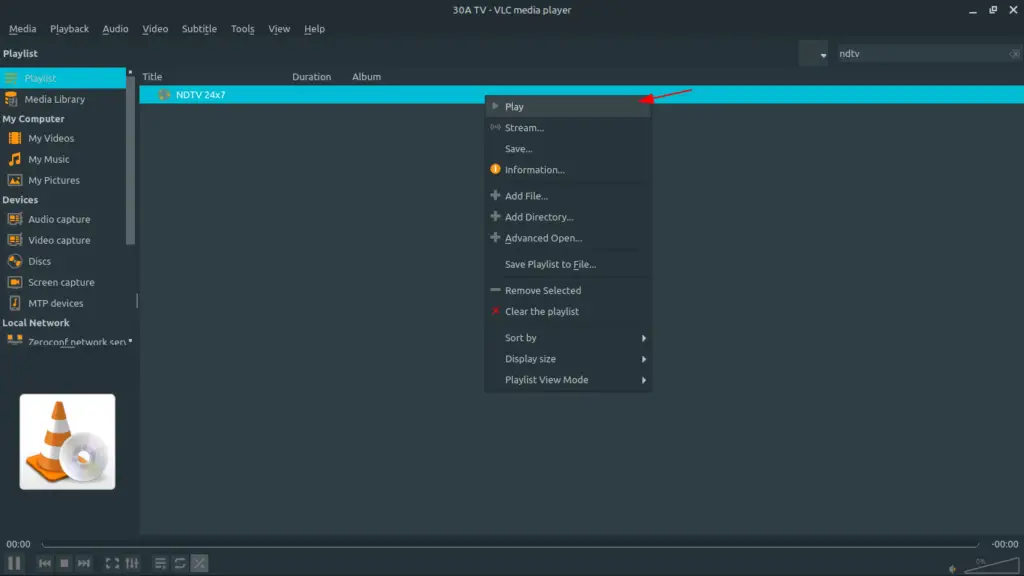 Open using File option.
You can also open your IPTV playlist directly from VLC. Just click on Media and choose Open File.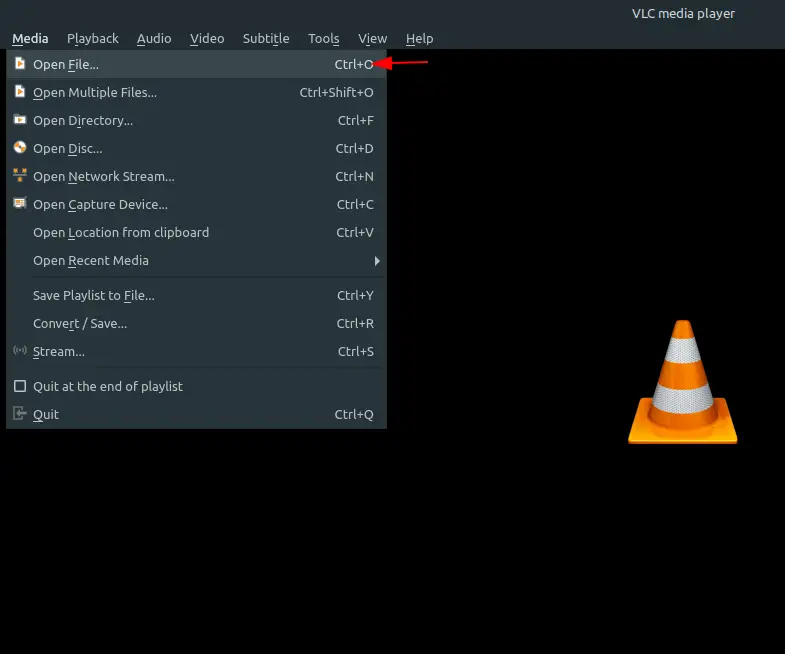 This will open a file selection box. Change to the directory where your m3u playlist file is stored and choose it and click Open.
This will start streaming the playlist, for instructions on how to play specific channels in playlist, see the above step.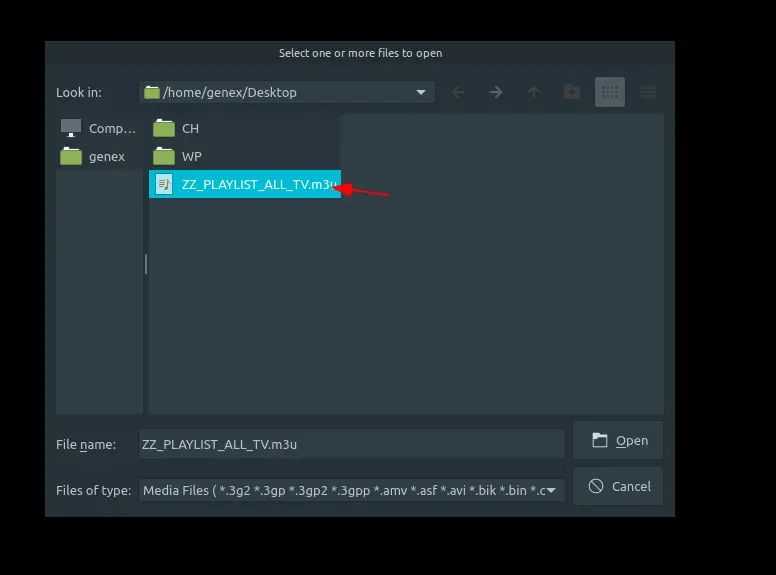 Play IPTV streams using Terminal
This is pretty interesting to see that in Linux, whatever you can do via GUI you can also do it from the terminal as well.
The same goes with using VLC from the terminal. Follow these steps to launch IPTV stream in VLC from the Terminal.
Open terminal and enter the following command:
$ vlc stream-url
Here, replace "stream-url" with the URL of the IPTV channel that you want to watch. I have given a pretty big list of these URLs at the start of this article.
This works for both a single URL or a playlist. If the playlist is stored on your PC, then enter the path to the playlist instead of URL.
You can simple do this by copying the playlist file and pasting it in the terminal, this will input the path of the file in the terminal.
Final Words
IPTV is a pretty good way to watch your favorite T.V channels easily on the internet. VLC allows you to stream IPTV easily in just a few steps.
Your comments motivates me to write more such articles, ???? so drop your opinions in the comments below.