In this tutorial we are going to discuss all possible ways to install and change themes in linux mint.
As I previously said in this article, linux mint gives you infinite possibilities to customize it according to your need. You can make it look like Mac, Windows or a custom look.
You can do this by installing new themes in your system. A theme comprises of buttons and icon packs.
Linux terminal (gnome-terminal) also supports theming, to customize the terminal and change its theme see this tutorial.
Also Read: Install Web App Manager in Linux mint
Not every theme come with buttons and a set of icons, some are packed without anything else and only the theme that is the colour schema for Linux mint.
There are many ways to install themes on linux mint and we are going to discuss almost all of them.
Change theme colour on the go using Welcome screen.
Most of the pre-installed theme in linux mint are nothing but clones of each other theme with different colours.
With linux mint 20, you get an option to change the theme in just one click directly from the welcome screen.
This screen appears at boot and gives a list of important customization options like changing the panel layout or switching between themes in just one click.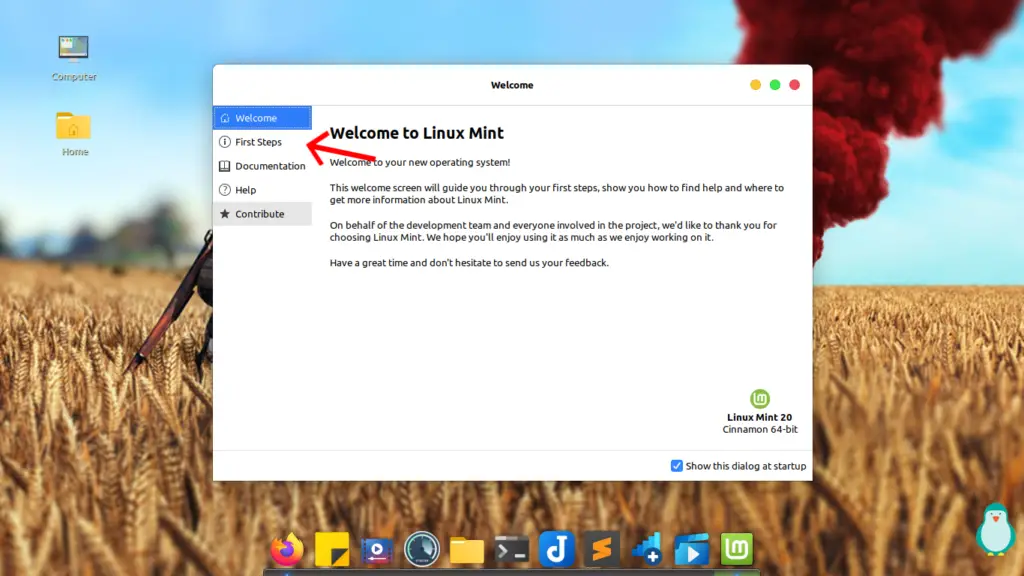 On the Welcome screen, click on the First Steps option to continue with this tutorial. If you have not opened this screen, then you can find it under Main menu >> Welcome Screen.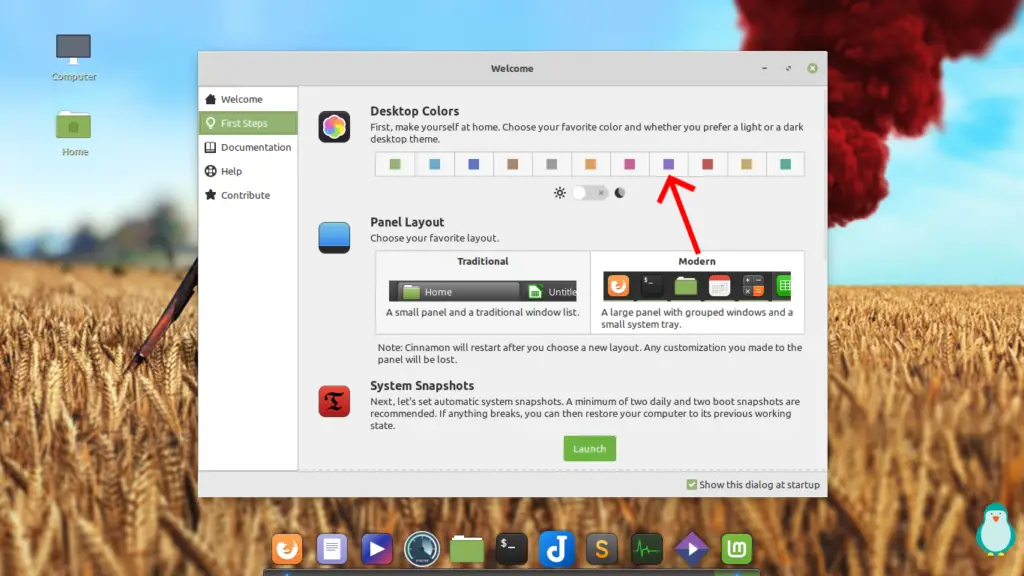 Under Desktop Colors, you can choose the colour that you want to use for your system. Each color is a different theme, clicking on one will change your theme, buttons and icons.
Also Read: Dual boot Phoenix OS with Linux mint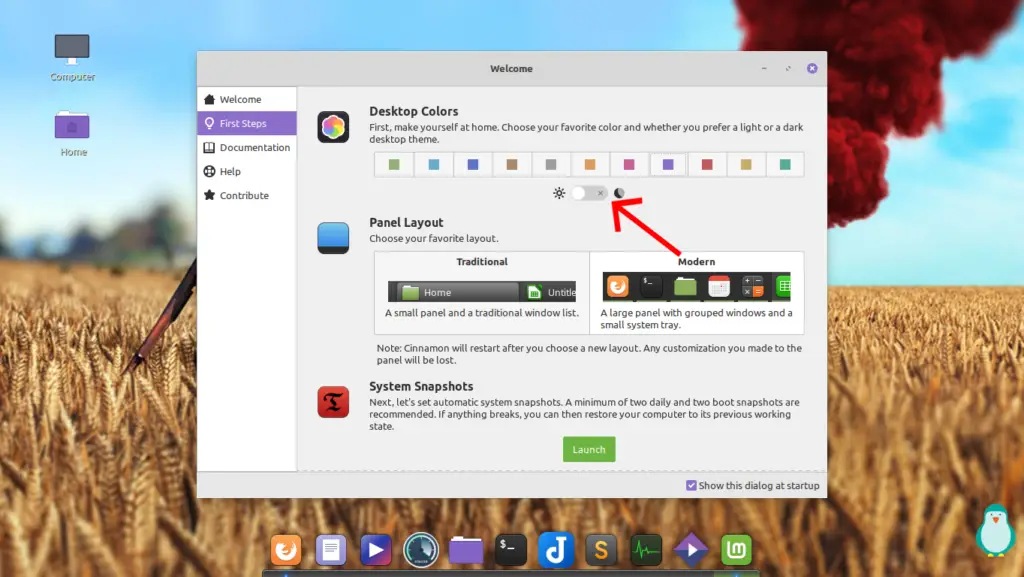 If you like dark-coloured buttons, then you can slide the dark mode button under colours option. This will change your buttons colour to dark and you can use it in the night.
Check out how to turn on dark mode in linux mint, if you like dark mode or you work during the night.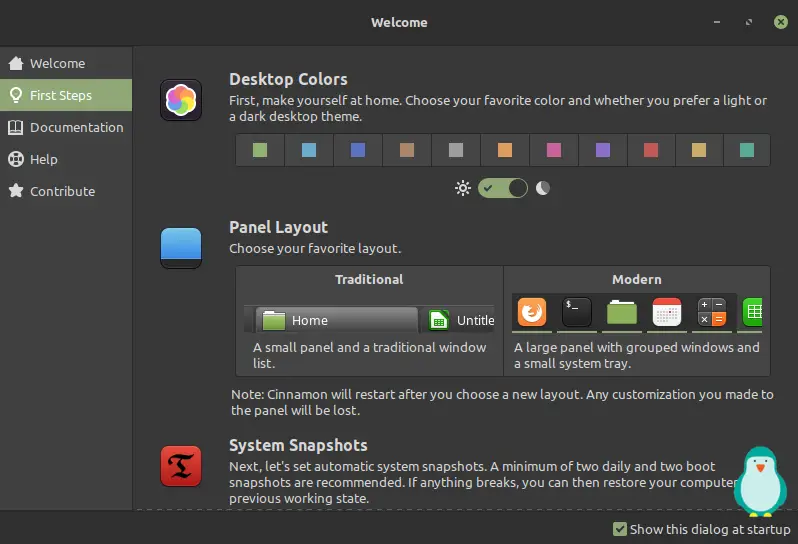 Install themes from the official repository
Linux mint comes with a lot of pre-installed themes from out of which most of them are clones of each other with just different colour schemes.
You can download and install new themes directly from Themes settings without needing to download a file from the web separately.
These are the official themes from linux mint developers and can be downloaded at a click of the mouse.
Also Read: Save your eyes from blue light on Linux using Gammy
To download and install these themes, follow this tutorial.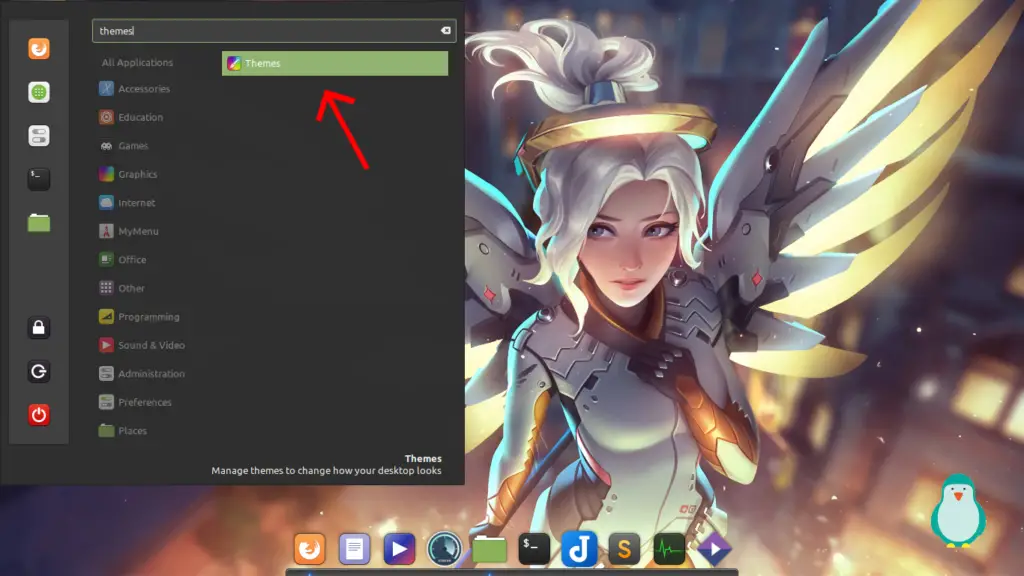 Begin by opening the Theme settings, you can do so by searching for themes in the menu or can go to System settings >> Themes.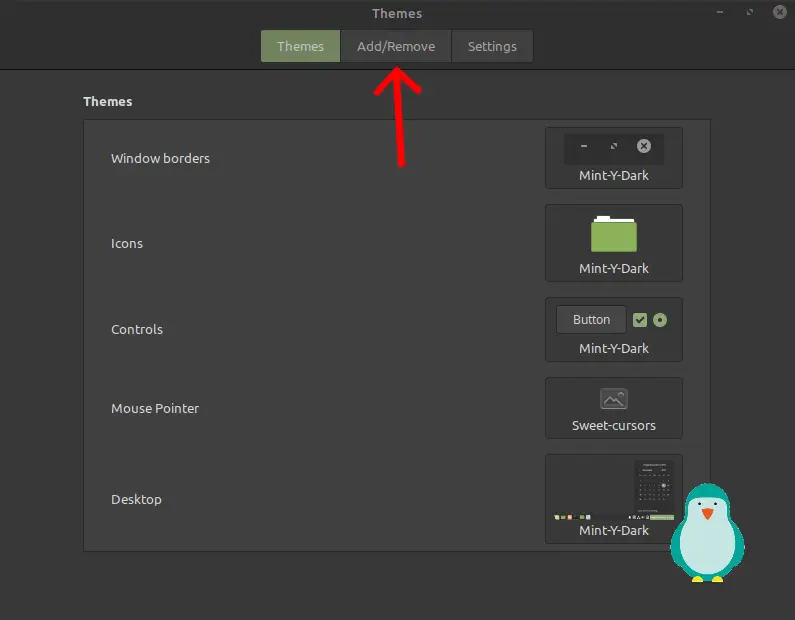 Here you can find all the settings related to Themes and look, to install a new theme go to Add/Remove panel. This is from where you can install new themes or can delete unnecessary ones.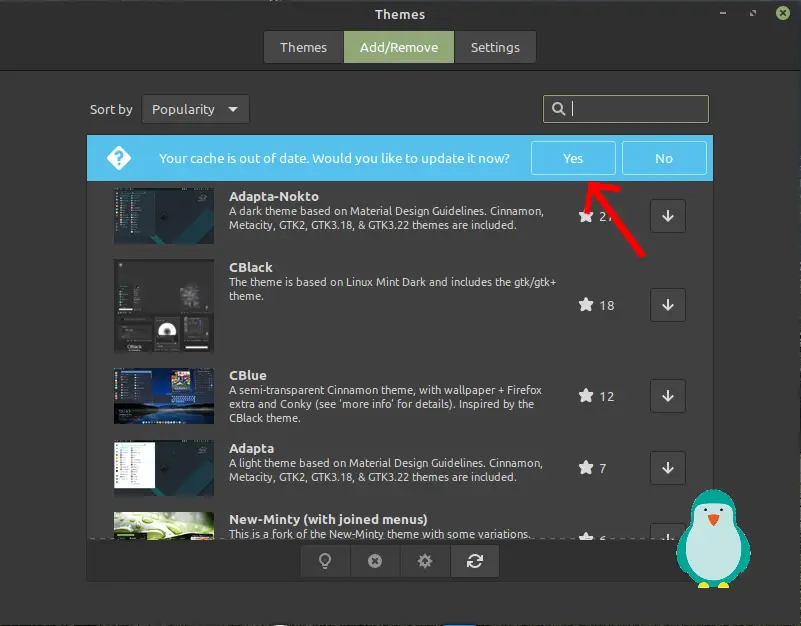 You need to update your Themes' cache before you can install new themes. This will grab the latest themes from the server. Do so by clicking on update cache.
Also Read: How to create a live USB of Linux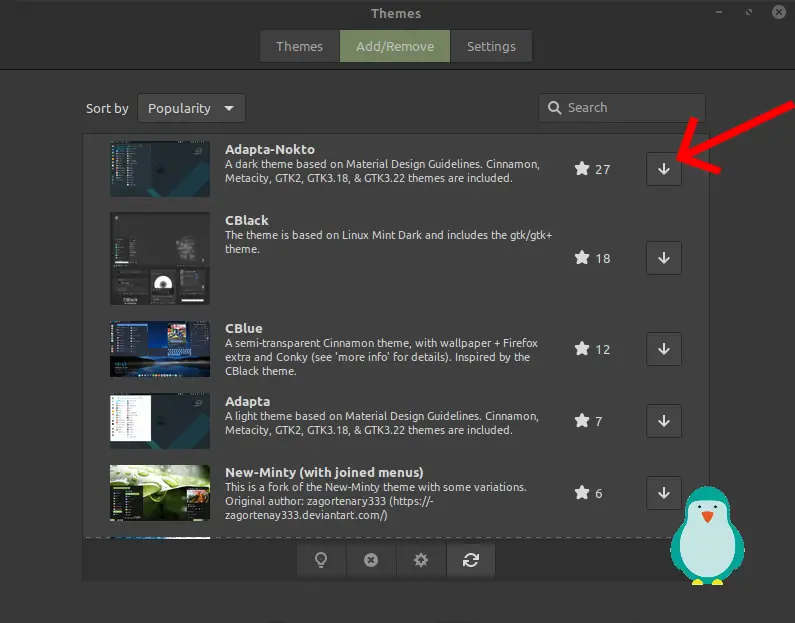 Now scroll through the wide range of themes available and choose the one that you think will best suite your needs. I am choosing Adapta-Nokoto as this is a very beautiful theme.
To download a theme, click on the downward arrow icon that represents "download" and head back to Themes panel from where we will enable our themes.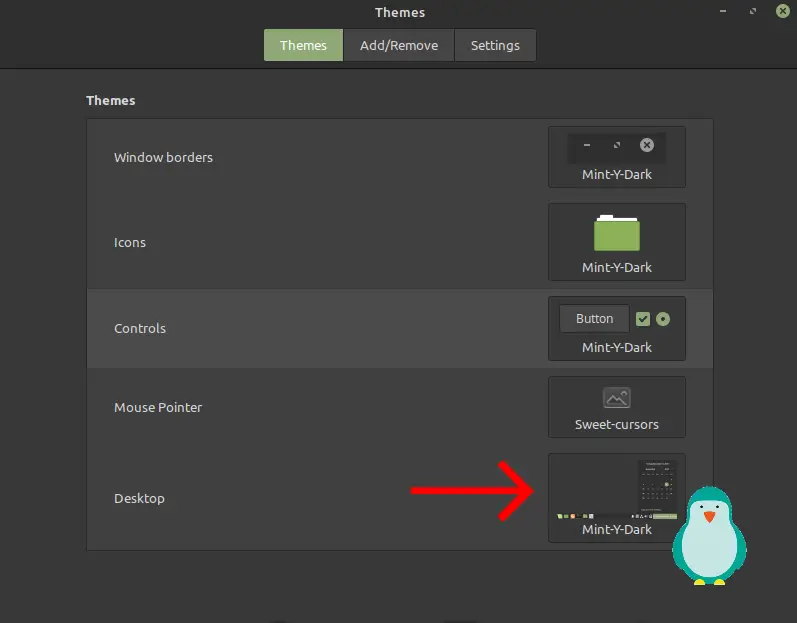 Now click on the Image next to Desktop to view a list of installed themes on our system.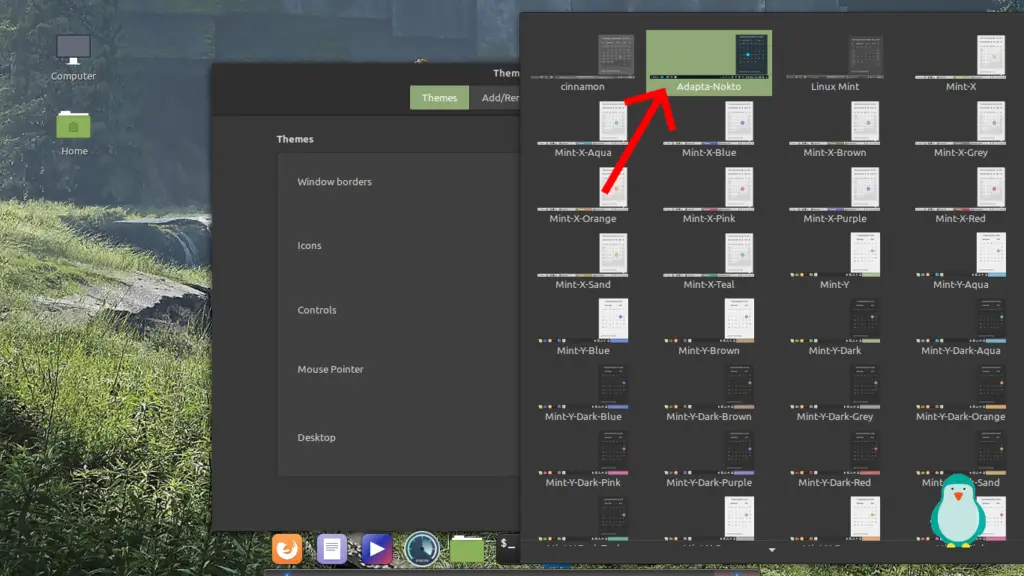 Now scroll through the list of available themes and choose the one that you like to use by clicking on it. You can also see that a lot of themes are pre-installed with Linux mint.
Also Read: Install Godot game engine in Linux mint 20
You can also choose one from them if you like. I have chosen Adapta-Nokto as this is the theme that I downloaded in the previous step.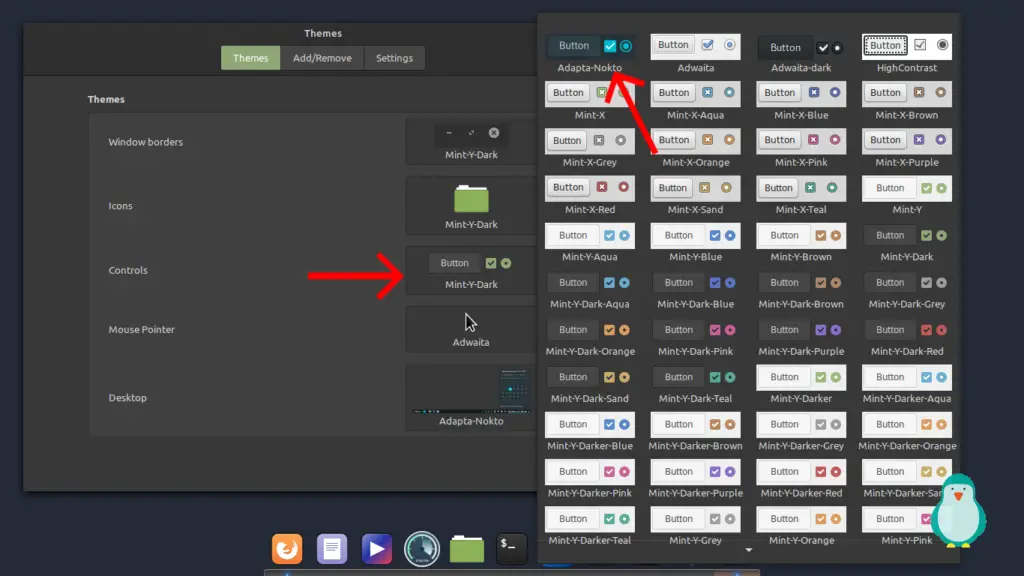 Any theme is incomplete without good looking buttons, choose buttons by clicking on Controls and selecting the buttons that corresponds to your theme.
If you don't see buttons for your theme, then choose buttons from another theme. There is no trouble mixing stuff. Note that I am referring Controls as buttons.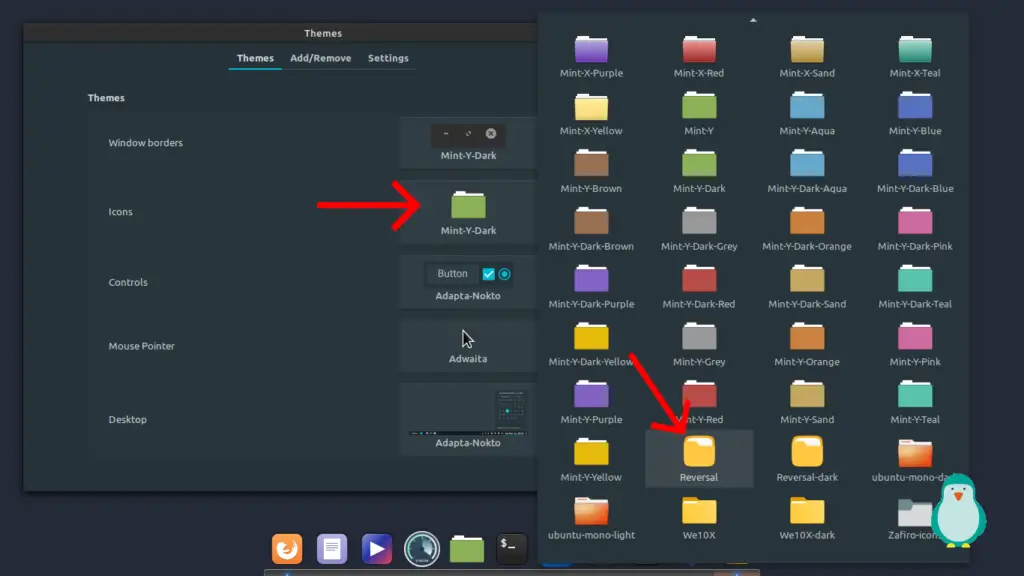 Now choose an icon pack. No icon pack came with Adapta so I have installed one manually. You can see how to install icons in the next method.
Choose one from the default icons packs if you have not installed one manually.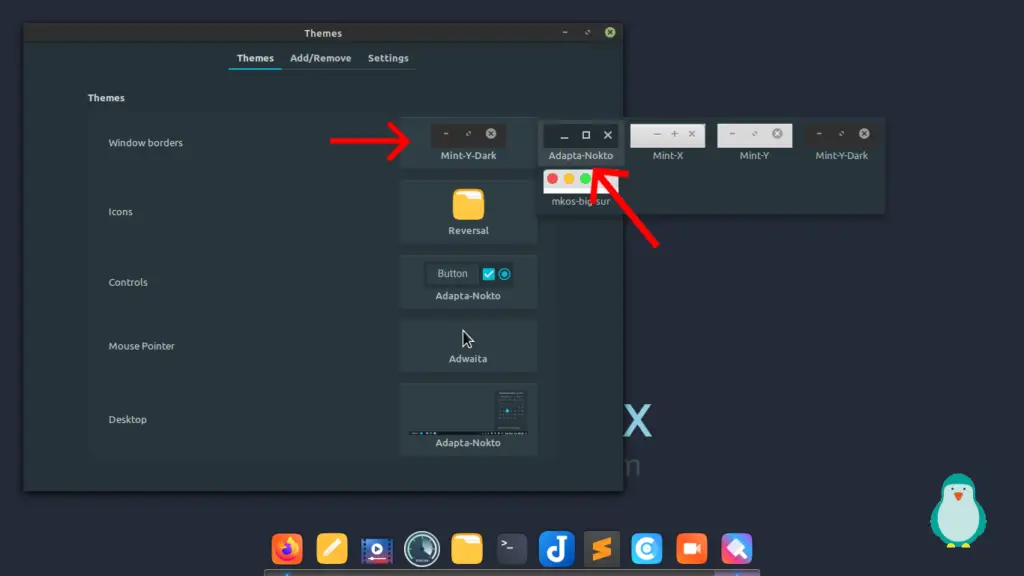 Now choose a border style for your window. I have chosen Adapta Nokto as this is from my theme, but if your theme does not provide one, then you can choose from other available options.
Also Read: How to Install Google Chrome on Linux Mint 20
A theme is very much incomplete without proper windows, as much as it is incomplete without good buttons.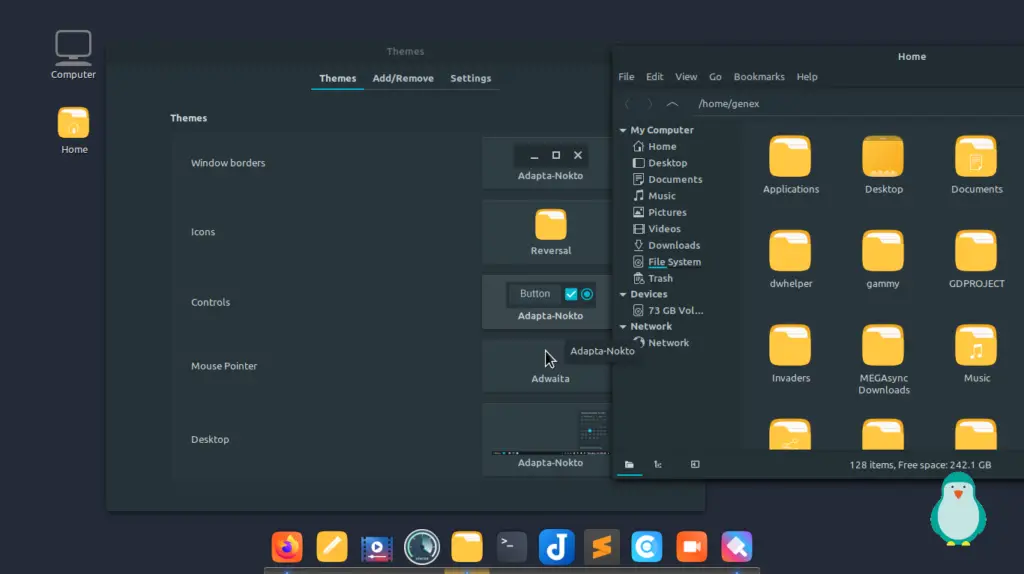 This is what my desktop looks like after all the customization. You should try mixing up different themes, buttons, icon packs, etc. You can really get some excellent results.
Install themes from a file
You can only install a limited number of themes from the above method, and out of which not every theme is good enough to be used
Themes downloaded from the internet can be installed by placing them under the appropriate directory.
You can find a lot of beautiful and light themes on github and from other sources. To add these to your themes directory follow along this tutorial.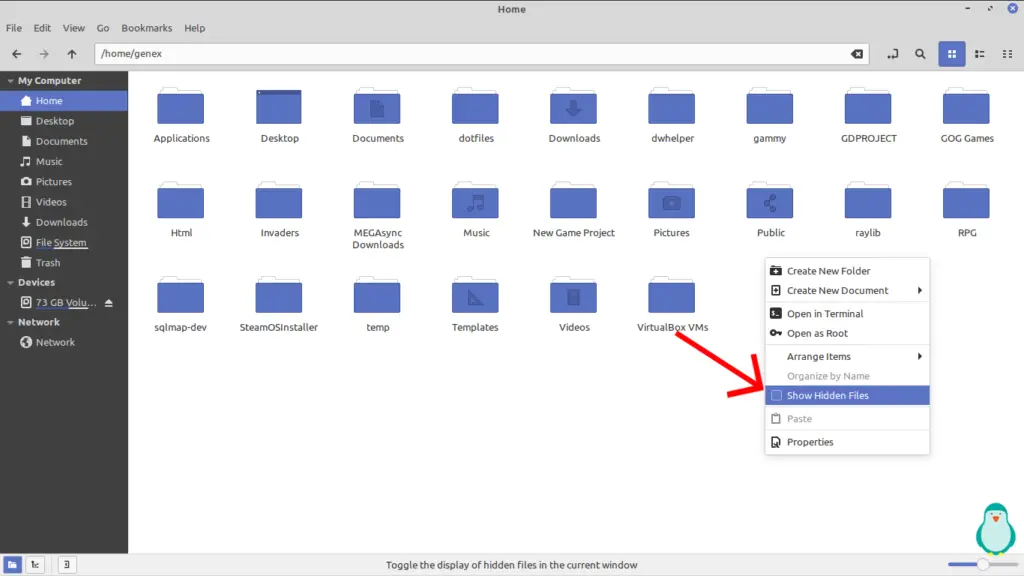 To start installing the custom theme that you downloaded from internet. Go to your home directory and Right click >> Show Hidden Files.
Also Read: Play games on linux with Steam
The themes directory is hidden so we need it to show up first.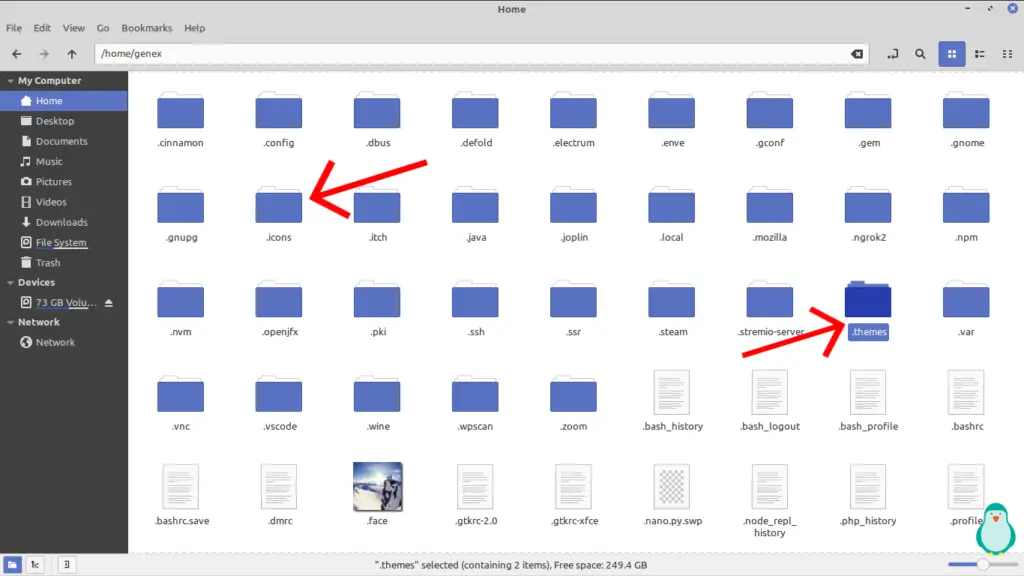 We need to place our theme files in the .themes folder the same process will apply for icons, to install new icons, just place icon files in .icons folder.
These folders may not exist so if you cannot locate them then create one yourself but if they already exist, then open that folder to continue with this tutorial.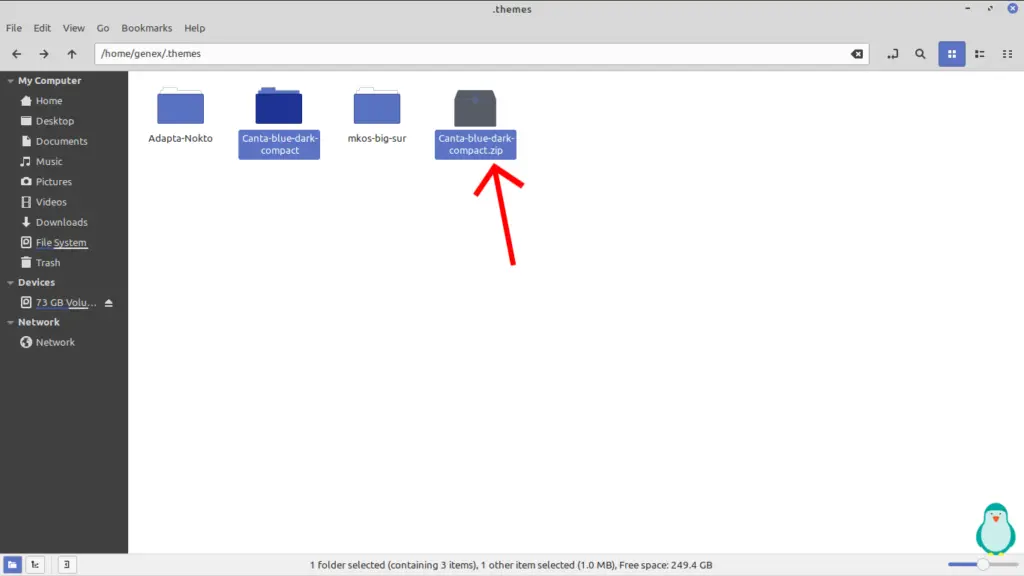 Now place the zip file that you downloaded and extract it in the themes folder. Make sure that the theme files directly in the folder and there is no sub-folder in which main files are put.
Also Read: How to install Wine on Linux Mint 20
For example, when you extract a downloaded theme you may see that some themes have different versions like light, dark etc. So make sure that the folder you are placing in themes contains the themes files itself and not sub-themes.
I am installing Canta-blue-dark-compact you can download it from here.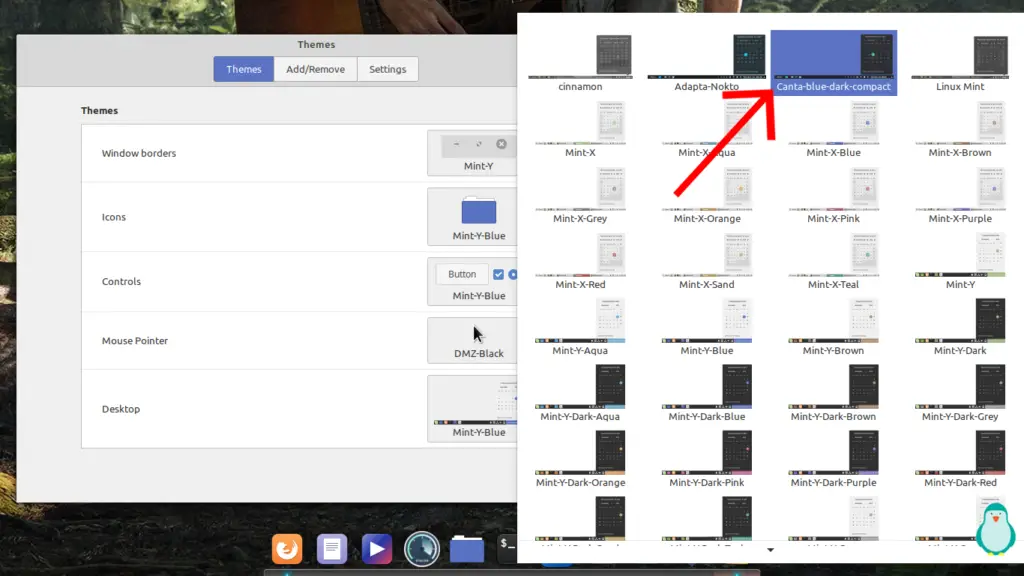 Now go to Theme settings and find and select the theme that you just installed. This will immediately switch your theme. Do the same with other options like Window borders, Controls, etc.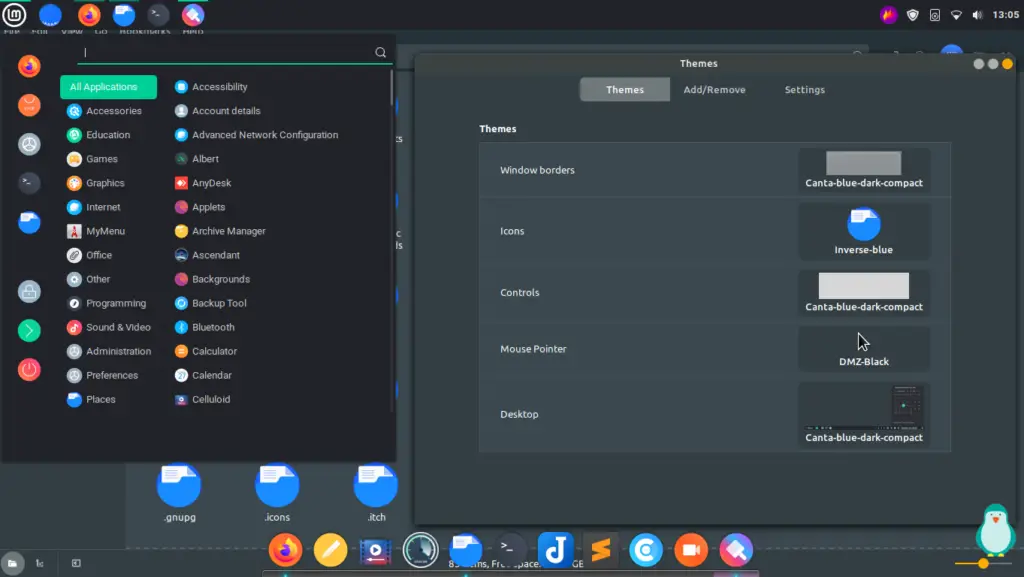 This is what my desktop looks like after installing the theme and selecting its corresponding Window borders and Controls.
Changing a theme will also change the look of your file manager and menu.
Direct install themes from Gnome-look
Wouldn't it be great if we can install themes directly in just one click without going through the hassle of manually putting each theme?
The Gnome-look.org has a solution for this. This website is especially made for themes and tweaks for Gnome and other desktop environment.
You can choose from hundreds of available themes and can install with one click. To install themes directly from gnome-look, follow this tutorial.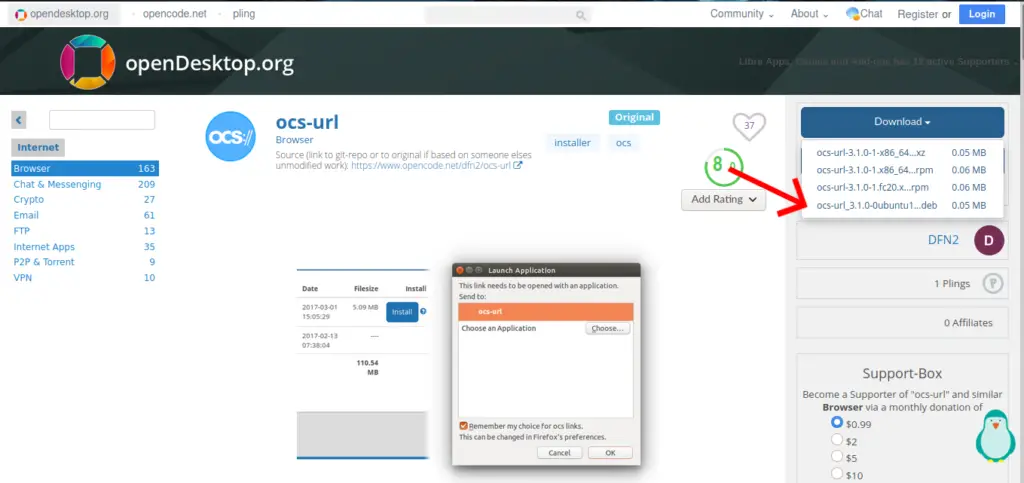 Go to this URL and download OCS-URL. It is a tool that allows you to direct install themes, icons and other stuff from gnome-look to your system.
Also Read: Install Simple screen recorder on Linux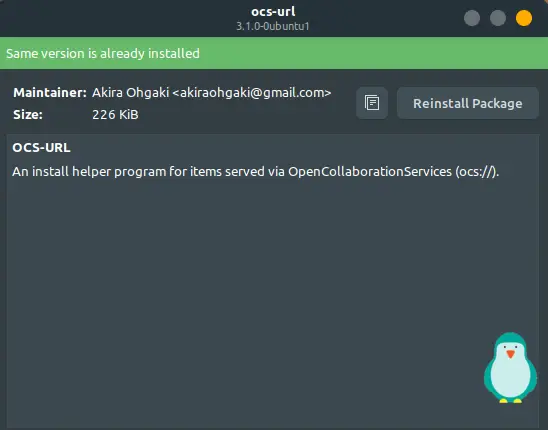 Install OCS on your system to start using it. Note that you have to download the deb package of OCS in order to install it on Linux mint.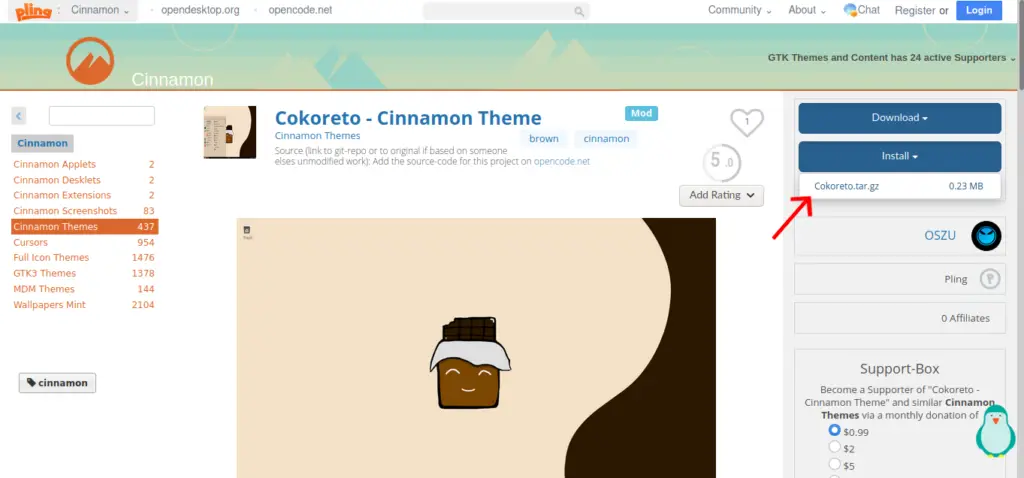 Go to gnome-look.org and search from 100s of themes that you would like to install on your system. You can also download icon themes and plank themes.
After selecting a theme, this time instead of clicking the download button click on install button and choose the package that you would like to install, there could be different versions of the same theme like dark version, light version , etc.
If any theme is faulty or incompatible with cinnamon, then it won't appear under Themes in settings. So make sure that you download themes that work for cinnamon.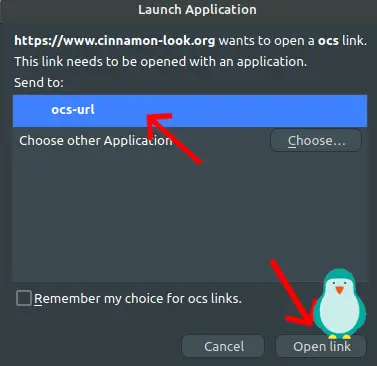 Now it will ask you how to open the link, select OCS-URL and click open link. This will open the link in OCS, which will download the theme for us.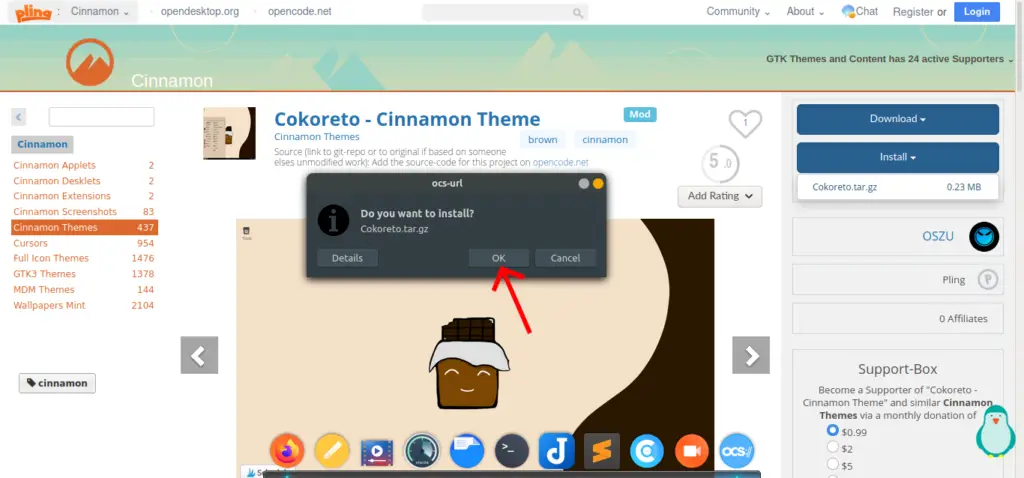 Click OK to begin installing the theme. You can get additional information related to the theme under Details tab.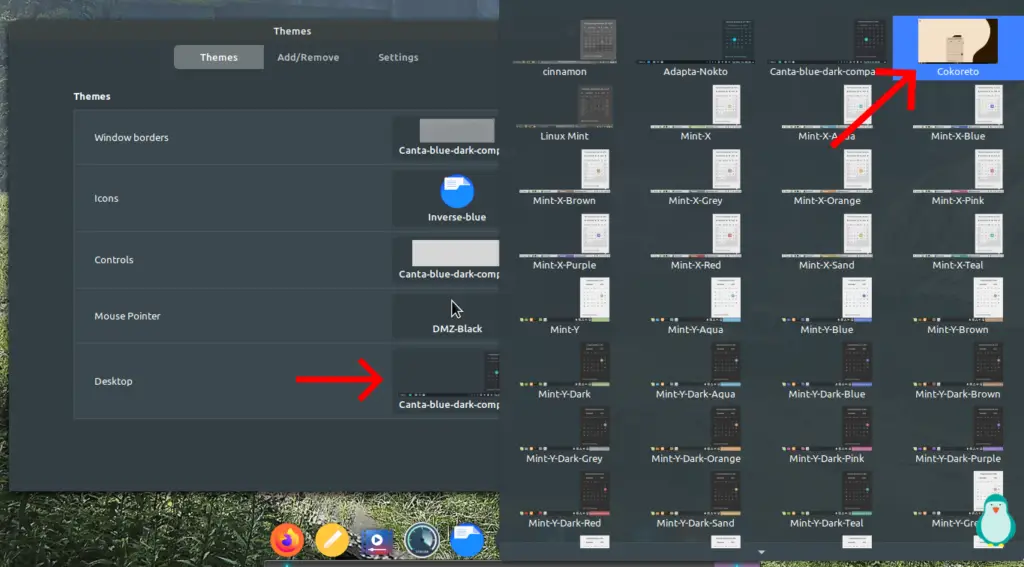 Now open the Theme settings and choose the newly installed theme. If your theme does not appear, then try closing and re-opening theme settings.
If still this does not work, then this means that either the theme is corrupt or does not support your system. To check if a theme if compatible or not, you can check if it has a cinnamon folder in it.
You can find your newly installed theme under Home >> .Themes.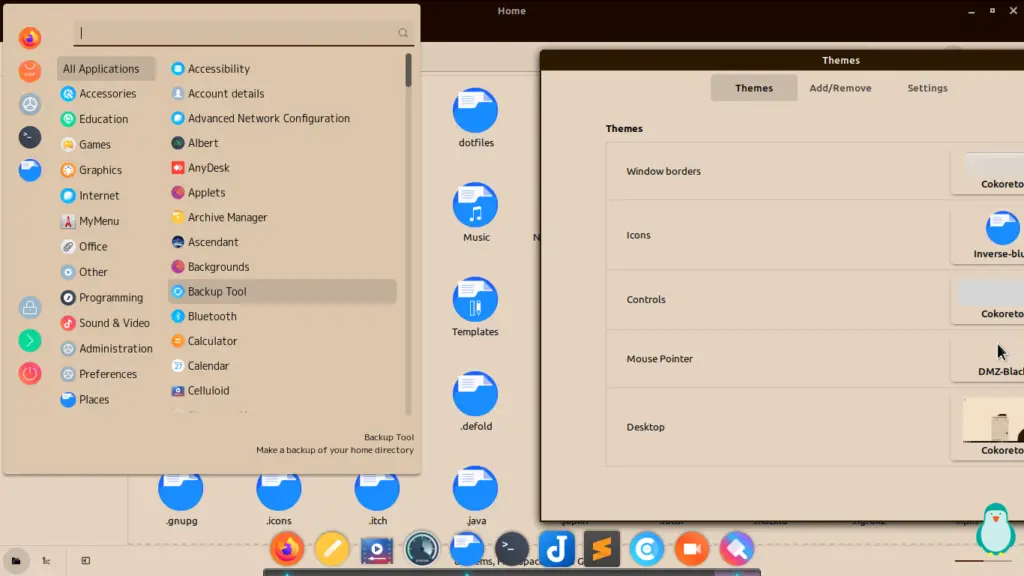 This is what my desktop looks like after installing this new theme.
Installing themes from gnome-look using OCS is the best way to install themes on linux, as you can install themes directly to your system instead of installing manually.
Drop your opinions and a picture of your desktop with newly installed theme in the comments section.