Brave is a privacy focused browser with built in adblock and tons of privacy friendly features.
It automatically blocks creepy ads which track you across different websites and record your activity on the internet.
This makes your browsing experience 3x faster and saves upto 33% memory.
Brave respects your privacy by shielding you from the surveillance economy and in the meantime you can earn money by just browsing on Brave.
It shows you privacy respecting ads and you can earn money by viewing those ads in form of a cryptocurrency called BAT ( Basic attention token).
Brave is supported on multiple platforms including Windows and Linux. You can easily install Brave browser on linux by following this tutorial.
Brave is only supported on 64-bit AMD/Intel architectures (amd64 / x86_64) and Linux is not presently supported within Brave's referral program.
This tutorial works for Debian 9+, Ubuntu 14.04+ and Mint 17+
Let us now install Brave on Linux mint 20.
Step 1: Install Dependencies
Install all the required packages for the installation of Brave by executing the following command in Brave.
sudo apt install apt-transport-https curl gnupg

Step 2: Add brave browser to trusted packages list
You must add Brave browser to the list of trusted packages by running the following command in the Terminal.
We need to add Brave as a trusted package in order to update is without problems.
curl -s https://brave-browser-apt-release.s3.brave.com/brave-core.asc | sudo apt-key --keyring /etc/apt/trusted.gpg.d/brave-browser-release.gpg add -

This will download and add the trusted gpg key to our system and we will be able to update securely from this repository.
Step 3: Add Brave repository to sources list
Now add Brave browser's repository to the sources list by running the following command in the Terminal.
echo "deb [arch=amd64] https://brave-browser-apt-release.s3.brave.com/ stable main" | sudo tee /etc/apt/sources.list.d/brave-browser-release.list

This will allows us to fetch brave from its repository and install on our system.
Step 4: Update Packages list
Now update the list of packages using the following command. his will fetch information from the brave repository as well and in the next step we will be able to install Brave browser on our system.
sudo apt update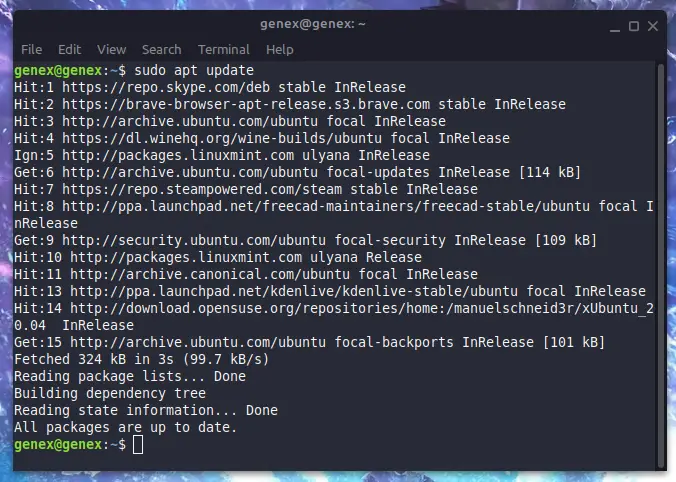 Step 5: Install Brave browser
Now finally fetch and install brave using the command below.
sudo apt install brave-browser
This will install brave browser on our system. You can also update Brave browser on linux using the same command if an update is available.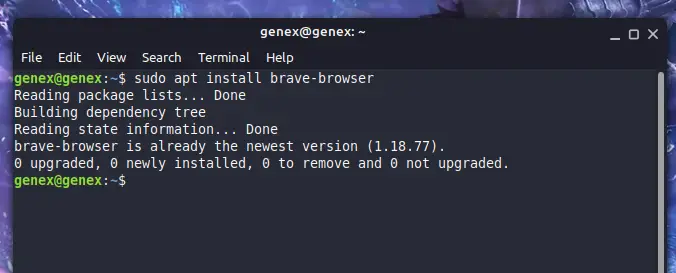 Step 6: Launch Brave browser
Once the installation is finished you can launch Brave browser using the terminal or from the menu easily.
brave-browser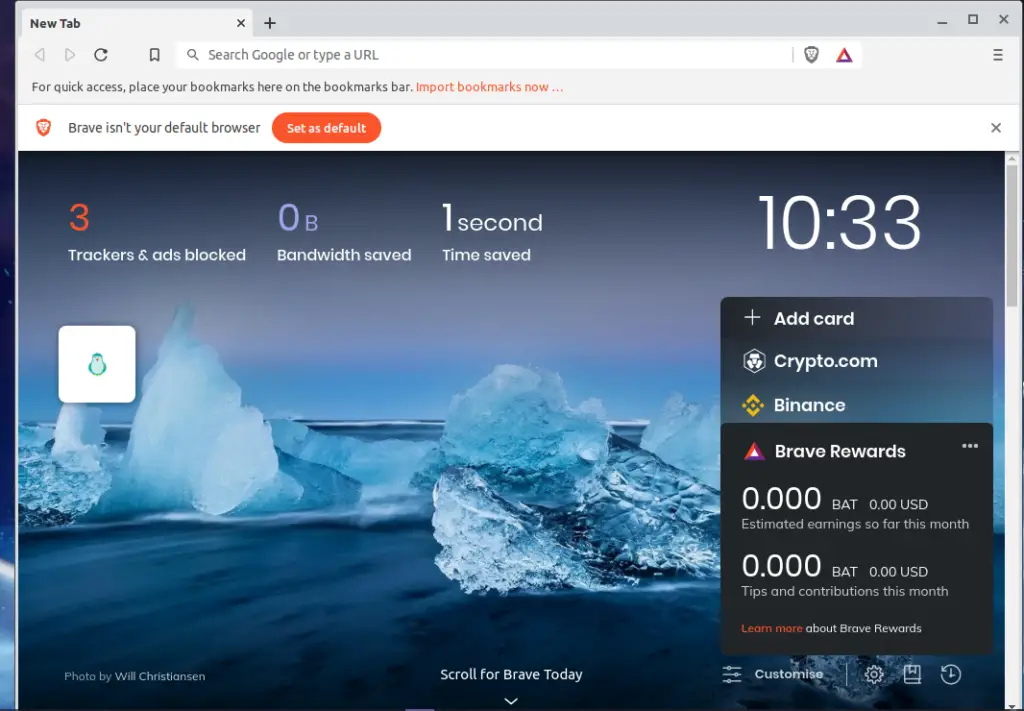 Conclusion
That's it for this article, sign up for more daily content 🙂