Kodi is considered an open-source theater software for adults with the purpose of entertainment. In this article, you will be informed on how to install Kodi on Linux Mint machine, what is Kodi Flathub, how to have a full session of entertainment on your computer, and many more.
What is Kodi Flathub?
Kodi is a home-theater entertainment-driven open-source software that originated twenty years ago. Microsoft created this software for Xbox and named it the Xbox Media Center. This continued to develop with time and got to see more development than the Xbox platform after the time Microsoft left it. The team of Kodi developed its own community of different developers.
Unlike different streaming companies, including Plex and others, it is software that gets managed through the XBMX foundation, the non-profit organization. It gets modified continuously and gets upgraded with multiple scores of different developers as well as coders across the globe. You are also able to install different builds or add-ons to the Kodi software to customize it free of cost.
What Does Kodi Actually Do?
Of all the different things which Kodi has done, it is quite easy to check what the functionalities of Kodi are not able to provide. It is that there is no content provided by Kodi. So, you will need to feed all the different shows, music, movies, etc., in the program.
Users are also able to get Kodi installed on their computers and mobile devices in order to stream the content of their choice. For instance, you may have a site you would want to stream the content from. However, it may be possible that your device may not support your installation, or it may not show compatibility with the site. So, you will need to install Kodi on it, have an addition to the site, and then use the Kodi app to stream the media.
Not different sites; however, there are other digital services that you may add that are called add-ons. Therefore, while Kodi wouldn't provide its content, it may offer you the choice to stream the media using one platform on any device you want, in here, any device containing Linux.
What Are the Kodi Add-ons?
Add-ons are considered as the features as well as the functions which don't come with the basic package. So, you have to install them later on in order to avail additional benefits from the software. You can get the developed add-ons for Kodi by the developers from third-party organizations as well as the team. You may want to figure out different add-ons for getting various services from a repository of Kodi as well as from third-party organization repositories. Kodi comes with different add-ons which are able to improve the experience of the users. These add-on types include lyrics, audio, gaming, weather, and interface, among others, for example.
Also, you can get add-ons in the form of Kodi skins through which you are able to personalize the appearance as well as the UI of the media software solution. You are also able to develop your skin, modify the skin which is already existing, and share the skin using different sites in public. If you are able to skip some additional efforts, you may want to download a build for Kodi.
The scraper add ons would enable you to import any info of a media in detail through different resources available on the internet. It is some info which may include posters, genres, reviews, etc. These add-ons would enable you to search through your Kodi media library through a remotely located area.
How Do I Get Kodi on Linux Mint?
You can install Kodi on Linux Mint by following these steps:
First of all, you need to understand what a PPA (a Personal Package Archive) is. It is among the software repositories that are developed for Ubuntu users. These are quite easy to install as compared to repositories from other parties. These are the following steps for the installation of Kodi.
Launching the Terminal
First of all, you need to launch the terminal from apps or utilize the shortcut through the keyboard (which is CTRL + ALT + T).
Adding Official PPA Repository
For adding a repository on the official level, you need to utilize the following command:
$ Sudo add-apt-repository ppa:team-xbmc/ppa
Then you need to press the enter button and hit continue.

Update the Repositories
You need to run this command to perform an update. This is written as follows:
$ Sudo apt update

Installing Kodi
The last step will be to run the following command for the installation of Kodi on your Linux Mint device:
$ sudo apt install kodi
Then you need to hit the Y and Enter key to get it installed.
Doing these steps will let you install Kodi. Remember, it might take a few minutes to get it all installed.
How Do I Install Kodi on Linux Terminal?
You can download Kodi for different distributions of Linux with Ubuntu through the following information. For installation of the latest Kodi update, you will need to add on the official code of Kopi PPA. From here, you may download different packages with the command of Apt. Linux supports it, so do various other platforms such as Ubuntu.
You will first need to run the following command as given below for adding a PPA:
$ sudo add-apt-repository PPS:team xbmc/ppa
You would need to enter the password as indicated and hit Enter for the downloading process.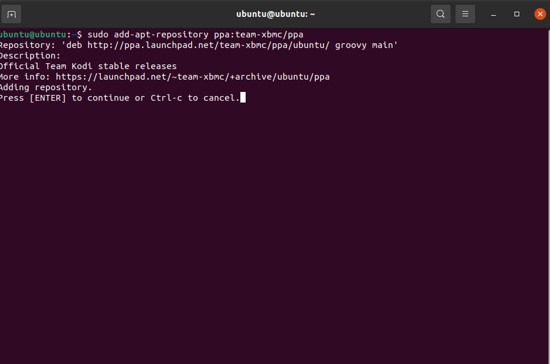 You will need to update the list of the package with the Apt Update command line as indicated below:
$ sudo apt update
For this installation, you will need to run the following command as given:
$ sudo apt install kodi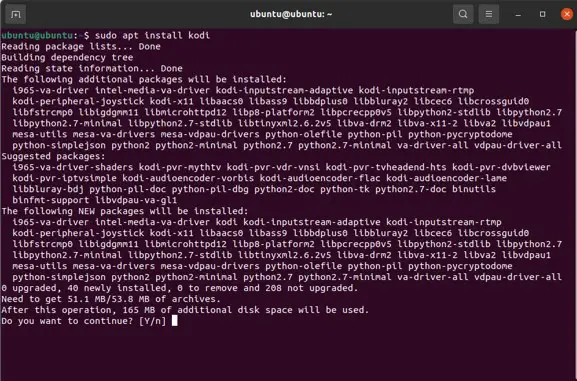 You will need to type in Y as you are asked in order to go for the operation of installation. After this process, you will be able to check the application as you press the key "Super" and then type in "Kodi." This will enable you to launch Kodi.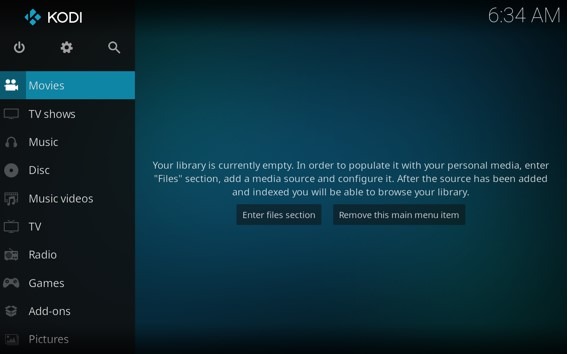 This is all you need to know about Kodi and how to install it on Linux Mint on the basic level.