We often come across circumstances when we have to help our friend or our family remotely to solve an issue on their computer.
Usually these issues can be solved over a phone call or we refer to a website with the tutorial to solve the issue but sometimes explaining certain stuff can get really tricky and we wish that is somehow we can access their computer remotely we can easily solve the issue.
Either you are helping your grandfather, a friend or just want to access your linux system remotely from your phone you will need a remote desktop client.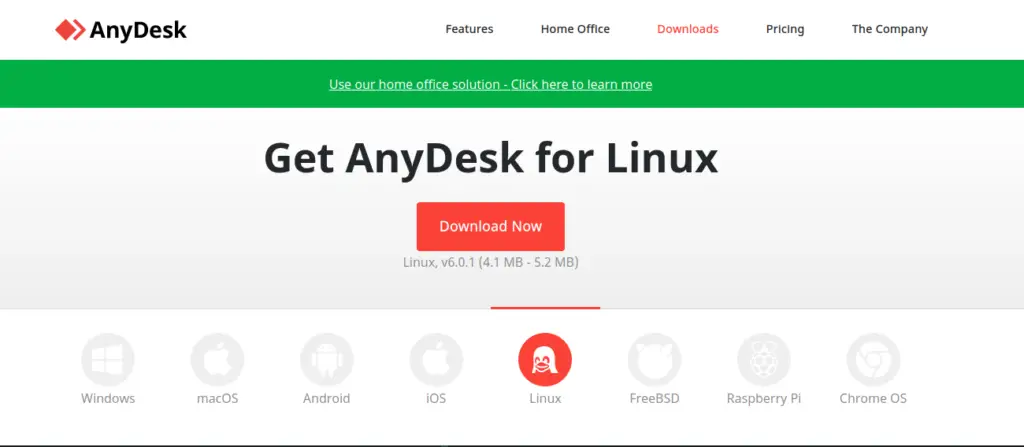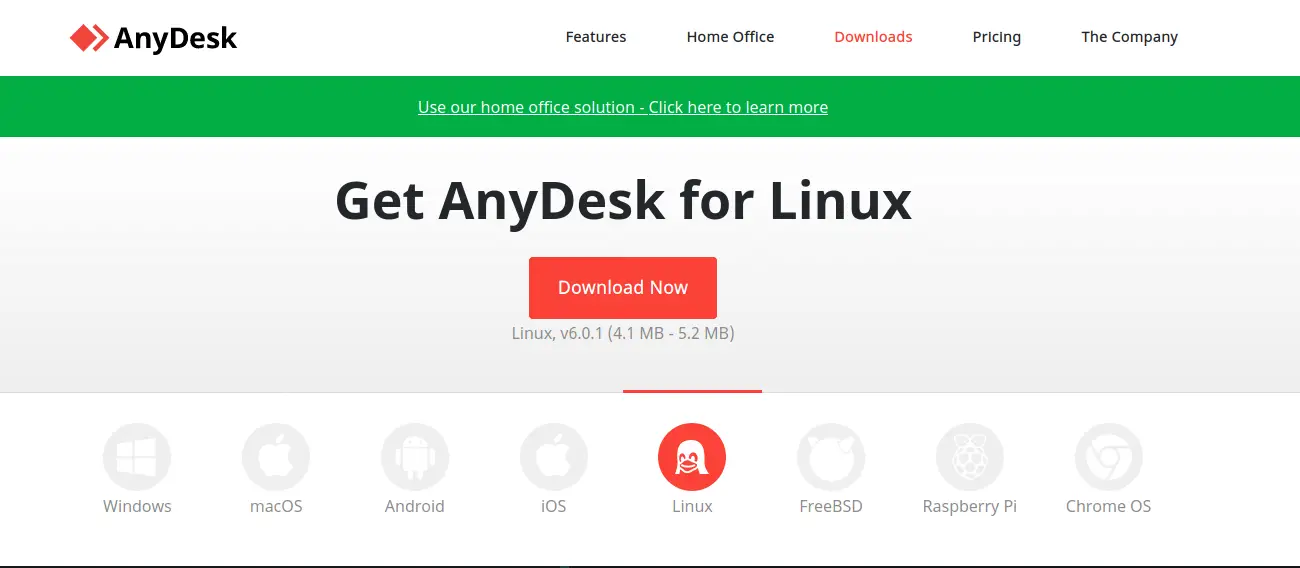 In this article we are going to install an set-up Anydesk an easy to install and use remote desktop client which allows you to access your linux system remotely.
It is available for all major platforms including different Linux distributions, Android, ios, Windows, macOS, FreeBSD, Chrome OS and even Raspberry Pi.
We will install anydesk on Linux mint and Ubuntu 20 in this article, you can use the same process for future or previous versions of your operating system.
Anydesk is free for personal use while plans for commercial use starts from $10 USD and comes with a free trial.
The download size for Anydesk is also very small as compared to other similar apps and offers much more features. Some of the features of anydesk are listed below.
You does not need to create an account in order to get started with Anydesk. Just download it and launch it to screen share or remote control your linux system.
Anydesk features
Anydesk comes with a really great set of features that are not present in its alternative software like teamviewer. It can work on even low internet conenction and consumes very low memory. Hence, you can use it even on low end linux pc.
Online collaboration – Anydesk allows you to collaborate and communicate with ease, whether you're holding online meetings and presentations or working on the same document from the other side of the world.
Built-in file transfer – Simply copy and paste to transfer files between computers.
Lightweight – No administrative privileges or installation needed. Simply download the 3MB file and you're off. Require unattended access to your computer when you're on the road? No problem, you'll just need to install and set a password.
Make it yours – Customize the Any Desk user interface to give yourself better experience.
Record sessions – Both the IT professional and the user whose computer they access can get a recording of each session. This adds an extra level of security and is handy for training purposes too.
High Frame Rates – Enjoy a fluent on-screen experience, with 60 fps on local networks and most internet connections.
Low Latency – Near-instant responses are essential when working on a remote desktop. That's why AnyDesk latency lies below 16 milliseconds on local networks and is therefore not perceptible.
Efficient Bandwidth Use – Perform tasks smoothly, even with bandwidths as low as 100 kB/sec. AnyDesk is the remote desktop software of choice for areas with poor internet connectivity.
Security – Banking-standard TLS 1.2 technology protects your computer from unauthorized access.
To know more about Anydesk see this
Install Anydesk on Linux mint and Ubuntu 20
Let's now jump right into installing anydesk on our system. This tutorial will work for any version of Linux mint, Ubuntu and any other Debian based operating system.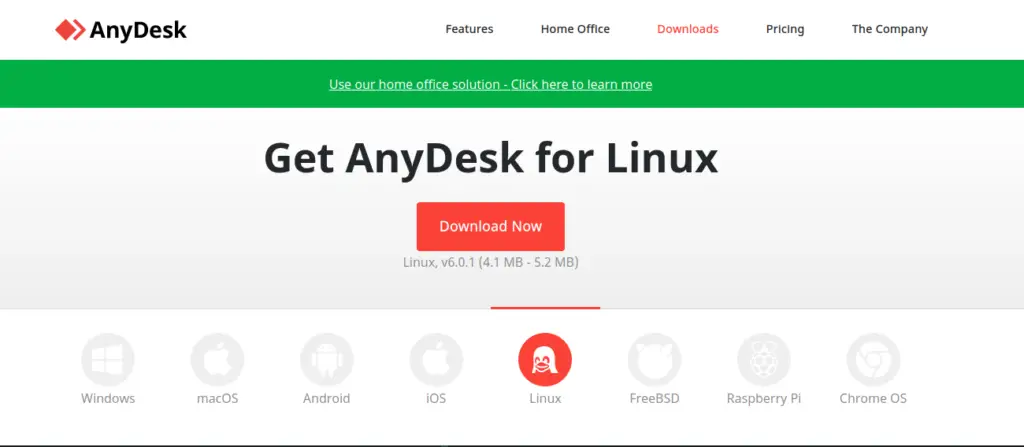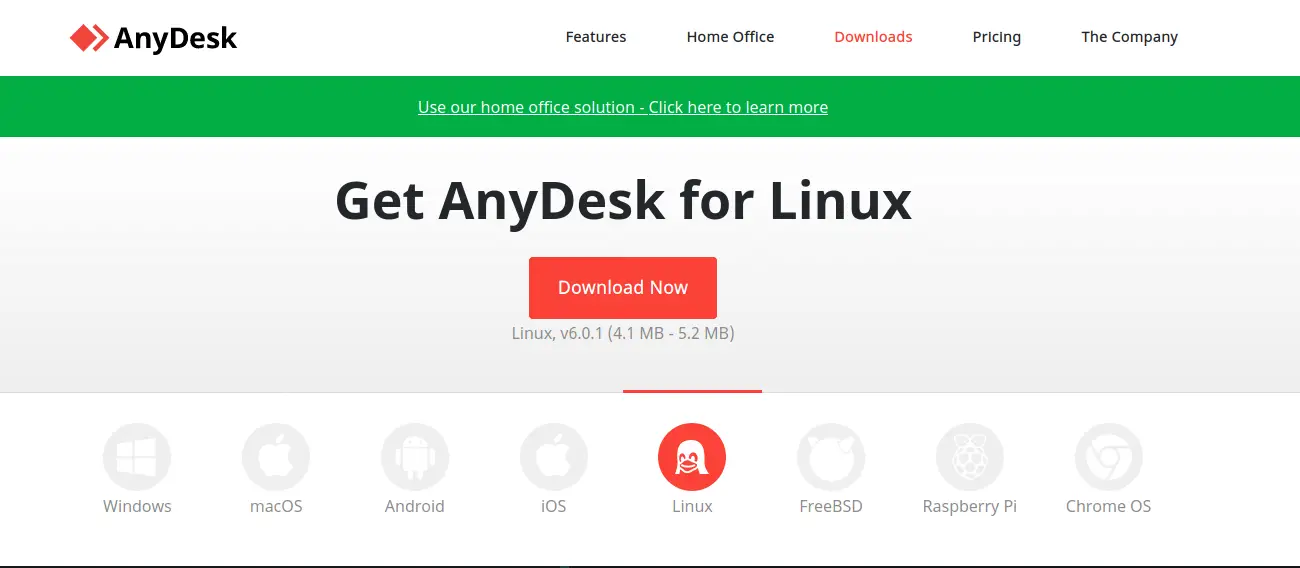 First of all follow the link below to download Anydesk for Linux. As I mentioned above it is available for multiple platforms. Choose Linux and scroll down a bit to get an option to choose your Linux version. Download the Deb version for Linux mint / Ubuntu 20.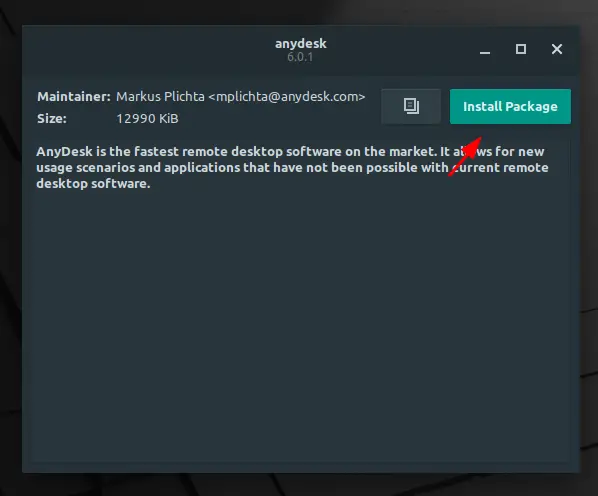 Once downloaded, click on the ".deb" file to start the installation process. It will be opened using GDebi package installer and you will see a window similar to the window above. Here you can read the description fo the package that you are going to install. Click on "Install Package" to continue.
Also Read: How to Install a Software on Ubuntu / Linux Mint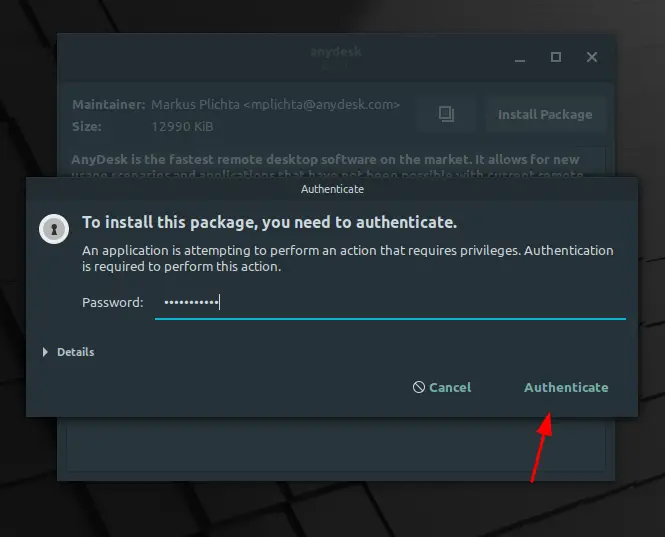 Fill in your password and click "Authenticate" to continue installing. You need to authenticate yourself before installing any application in linux.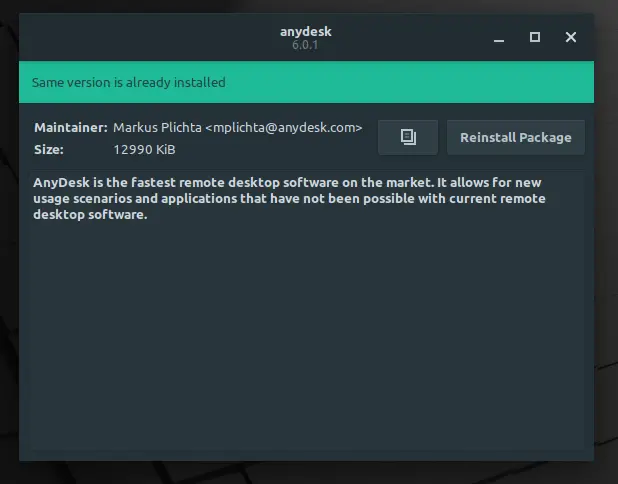 Anydesk is very lightweight, the installation process will end in just a few minutes. Once the installation is complete, installer will close and you will see a message that the same version is already installed. Close this window and continue.
Read: How to install Ubuntu 20.04 (with pictures)?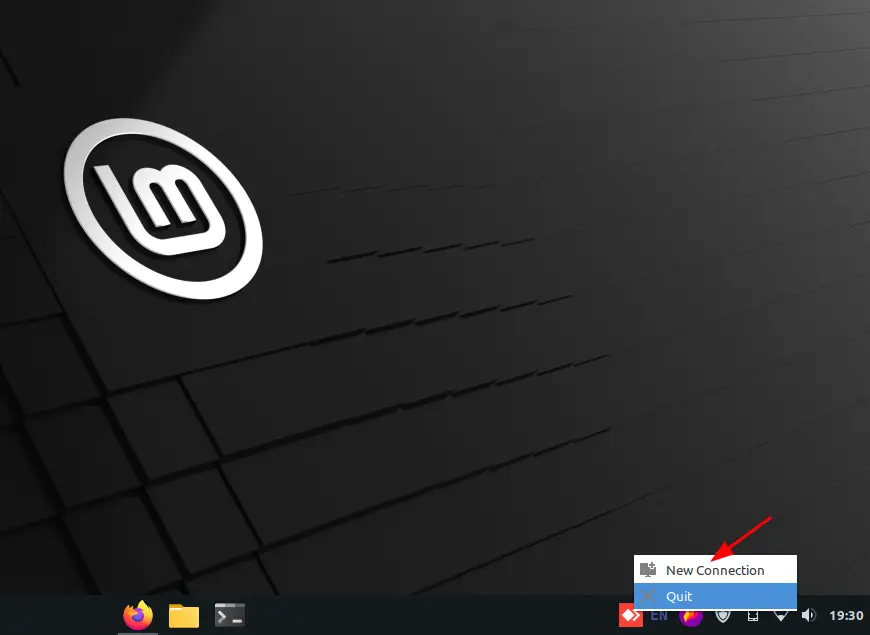 After installation anydesk will automatically launch itself and you can see a little icon on your system tray as shown in the picture above. Click on this to open anydesk or if simple search in the menu for anydesk and click on it to open it.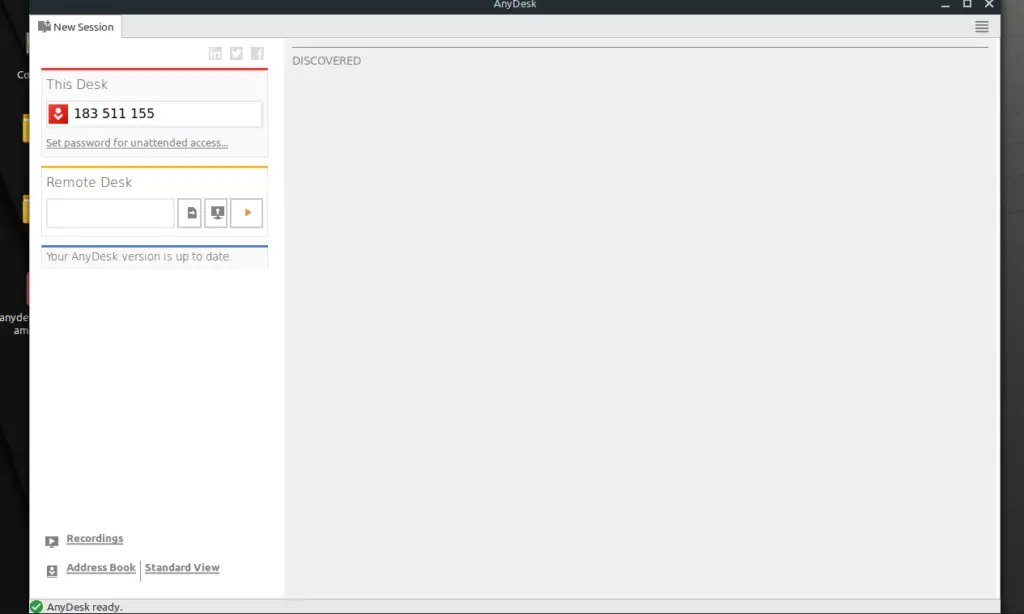 Congratulations you have successfully installed Anydesk on your linux system. Now you can share your screen or remote controls some body else's screen easily.
How to use Anydesk?
Anydesk have a very simple user interface and you can easily get started with it without much technical knowledge.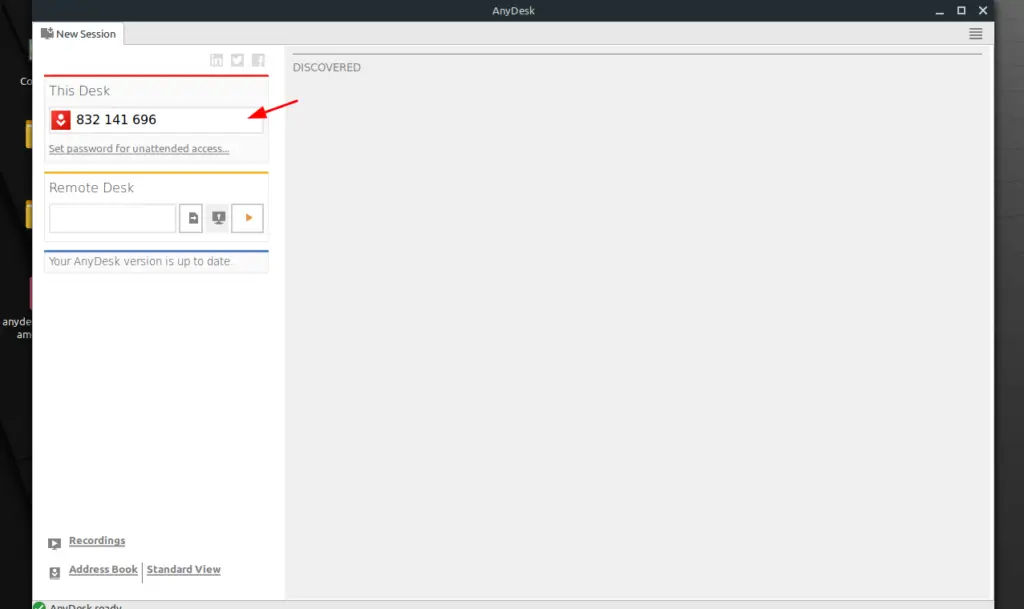 If you want somebody else to control your linux device remotely make sure he is trust worthy and give them the number that you see under "The Desk", they can connect with you using this.
You will receive a confirmation if you want to allow the other person to control your device remotely on your screen.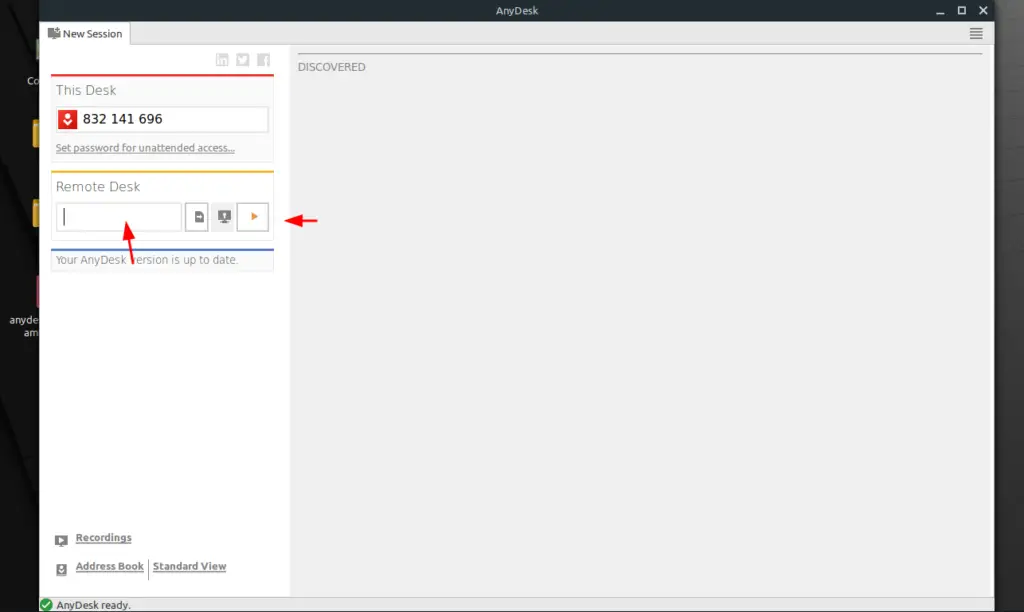 TO control somebody else's screen get their code as and paste it in the "Remote Desk" and press the little yellow icon to start controlling their screen. You can only control their system if they allow you to.
Final Words
Compared to its alternatives, Anydesk is pretty secure, lightweight nad easy to use. I would recommend it to any Linux newbie or a professional. My ratings are 10 out of 10 for this wonderful software.