Often you buy accessories for your Linux device, and they are unsupported. This issue is way more frequent with Linux users around the globe than you think.
Many manufacturers do not bother to make their products compatible with Linux due to its low market share. Hence, often leaving buyers finding their products unsupported with their Linux System.
This article will discuss the best premium Linux-compatible keyboards that you can buy from Amazon.
This powerful beast comes with programmable RGB keys perfect for a developer or a gamer. The upgraded version of Das Keyboard Professional is designed to keep programmers focused on creating software and operating at the highest concentration level.
It has fully programmable RBG keys while allowing you to track the most important information directly on its RBG keys. You can configure it to your needs; for example, if your website is down or the software build failed, it can notify you with a change of colour.
With 16.8M Colors, the Cherry MX RBG will ensure that the user can receive notifications in every possible colour on every possible key.
It supports Linux, Windows, and Mac. It is the recommended keyboard for a busy programmer.
This beautiful Logitech keyboard is designed for maximum comfortability and stability. Its spherically dished keys match the shape of your fingertips, offering satisfying feedback with every tap.
It maintains productivity and comfortability altogether; you can type on multiple computers in 1 fluid workflow. It can connect up to 3 devices over Wifi which you can switch easily while typing.
Logitech MX Keys Advanced Wireless Illuminated Keyboard supports multi-device and multi-OS, including all Linux variants, macOS, iOS, Windows, and Android systems.
This Keyboard is USB c Rechargeable and lasts up to 10 days or up to 5 months with backlighting off. You get one year warranty with this product.
Motospeed designed this beautiful gaming keyboard for ultra-fast performance and durability. Customers rate it 4.4 Stars out of 5 on Amazon.
Designed for longevity with greater durability and responsiveness. It supports both Wireless and Wired connection methods. The switches are of the highest quality, tested for 50 million keystrokes.
You get 10 hours of wireless usage under ordinary circumstances and 480 hours of Standby time, which means a few days life cycles on a single charge.
With 19 Backlit effects,
you can enjoy a more immersive, colourful typing and gaming experience. It supports the commonly used game mode button and custom recording key.
It is designed to be durable, lightweight and space-saving. All 61 keys have individual switches with 'full n-key rollover and 'anti-ghosting for flawless performance. It supports 14 kinds of LED lighting effects and multiple other valuable functions.
It has strong compatibility with Linux, Windows, Mac OS X, PS4, and XBOX and comes with a 30 day money-back and 12-month warranty.
This high performance, high quality keyboard is perfect for every basic need and gaming. It has a life of up to 50 million keystrokes accompanied by laser-etched keycaps that give maximum durability.
It has gold-plated switches that provide the best typing experience and increases the lifespan of the product.
You get a 2 meter extra long USB cable, quick access media keys, and a handy sleep function that helps save energy by putting your computer to sleep even for the shortest breaks.
You can connect up to three devices simultaneously and switch between them easily. It is compatible with all major operating systems. Windows XP/Vista/7/8/10/11, MacOS, Linux, Android and even iOS.
It has a detachable USB cable so that you can charge the keyboard while shifting to the wired mode.
There are 19 backlight modes to choose, also you can customize 3 extra backlight modes. The brightness of the backlight and the speed of the backlight movement can be adjusted.
Classic compact 87 keys, suitable for office and home use. It is suitable for people who need to type or game for a long time.
No matter how many buttons press, respond or trigger at the same time, All 87 keys have individual switches with 'full n-key rollover and 'anti-ghosting' for flawless performance.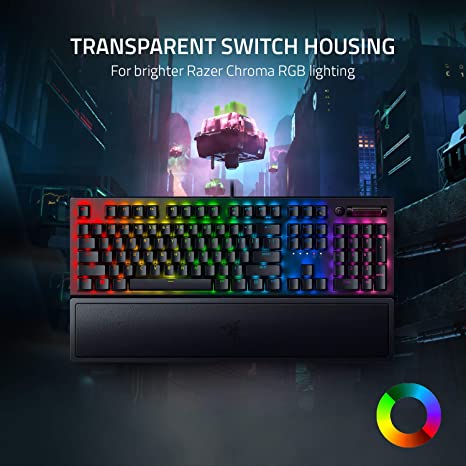 The Razer BlackWidow V3 Mechanical Gaming Keyboard is one of the best mechanical keyboards currently available. It has a good aesthetic that is perfect for those who are looking for a cool-looking keyboard due to its design.
Using it also gives its user a comfortable experience. It will provide its user a comfortable feeling when they touch the keys. However, the keys are rather noisy when you press them.
When it comes to durability, this keyboard will surely last for a long time since it was made from high-quality metal. In case the keyboard keys are damaged, you don't have to worry about it because the keys can be replaced easily. We highly recommend this keyboard.
Tips When Buying Keyboard for Linux
If you're considering buying a new keyboard for Linux, you should know that there's no "one size fits all" solution, and choosing the right keyboard can be frustrating, time-consuming, and expensive. 
Keyboard size: You can buy a small or large keyboard. A small keyboard is very easy to use. It doesn't occupy much space and you don't need to move the mouse around.
Quality: You should only buy keyboards that are made of good quality materials. Avoid buying cheap products.
Features: You can choose the ones that are designed for multimedia usage and gaming.
FAQs About Keyboard for Linux Users 
Can Mac keyboard work with Linux?
If you're a Mac user who wants to switch over to a Linux-based system, there's a good chance that you'll need a new keyboard. A lot of Linux-based operating systems don't come with any kind of pre-installed keyboard, and in order to use one, you'll have to install one yourself. While the process of installing a keyboard for a Linux-based system isn't too difficult, you should be aware of some things you should consider before going through the process.
Will all keyboards work with Linux?
It's a common misconception that any keyboard will work just fine on Linux. You may even have to spend a bit of time and money getting a special Linux version of a keyboard. In fact, some keyboards don't work as expected on Linux. That doesn't mean they won't work, however, but rather that they need to be adjusted. Some keyboards need extra software installed, some keyboards have to be configured differently in Linux than they do in Windows, and some have keys that don't work as they should.
Do RGB Keyboards work with Linux?
So, this might be the first question on some people's minds when they hear about the RGB keyboard. The answer is yes and no. Yes, because it's possible to get it working in Linux. No, because there are few keyboards that do not support Linux.
Are mechanical keyboards just as good as a normal ones?
Mechanical keyboards don't sound like something you would want in a workplace environment, but the reality is that most people enjoy the tactile nature of the keys that they can press down with their fingers. Because of this, many people choose to purchase a mechanical keyboard, even if they're not using it for long hours at a time.
Conclusion
In the end, the decision boils down to how much you're willing to pay for a good set of keys. On average, mechanical keyboards are more expensive than membrane-based keyboards (although some brands will be cheaper than others). But a good keyboard for Linux will last you many years, while a cheap one will wear out in a few months. Plus, the price difference tends to be negligible compared to the cost of switching between keyboards.