A Game engine is a tool that helps you to develop games and similar software. In addition, it includes the necessary libraries to make your tasks easier. 
In this article, I have created a list of ten such game engines for Linux. 
This is not the complete list of all game engines available for Linux; however, it covers the best game engines as of 2022. 
1. Unity
2. Godot
3. Defold
4. GDevelop
5. GB Studio
6. Construct 3
7. PlayCanvas
8. Cocos 2d-x
9. Uniengine
10.RPG Paper Maker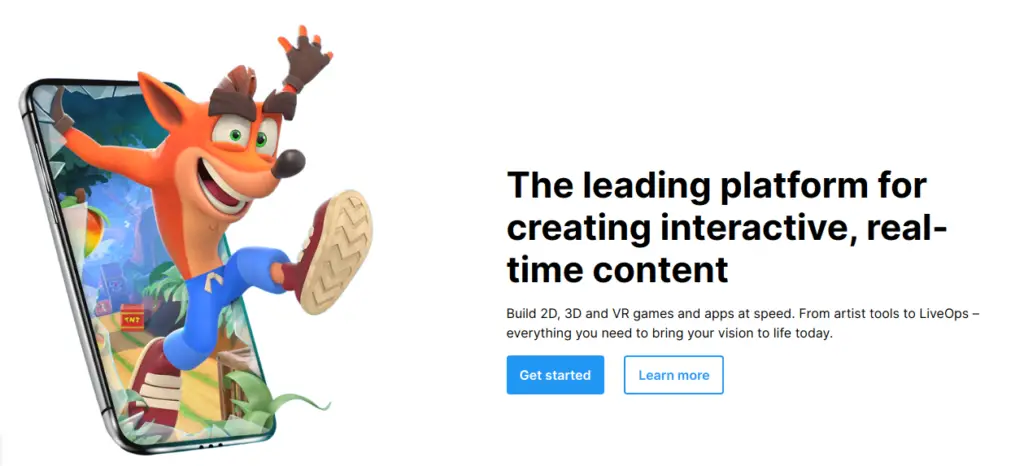 Unity is the most popular game engine in the community. There are tons of successful and award-winning games on Google Play Store made with Unity. It is free to use and available for Linux.
You can develop cross platform games with Unity, including Android, Linux, Windows, macOS, PS4, Google Stadia, and a lot more.
It has a large community of developers and an ever-growing marketplace filled with people who share their experience and expertise.
If you want to start your game development career today, then there is nothing better than Unity.
You can code 2D and 3D games with Unity, and its excellent support for community addons makes your game dev journey easy and much more engaging.
You can code your game in C# with Unity. There are tons of free tutorials and guides available for Unity on Youtube.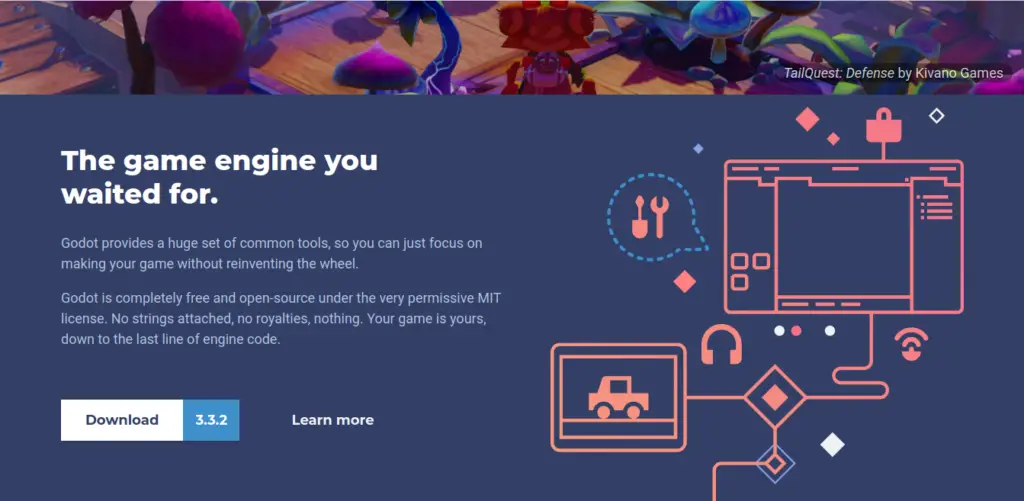 Godot is a rising open-source game engine. It offers excellent support for 2D and 3D graphics. Though not as popular as Unity, it is as powerful as any other popular game engine in 2022.
You can bring your imagination to reality with Godot. It allows both coders and noncoders to develop games. 
Godot provides three methods to develop games. You can either Code in C#, its own developed GDScript, or for noncoders; it features an intelligent solution called Visual Scripting. 
You can create games with Godot's Visual Scripting without even writing a single line of code. In Visual Scripting, you design the game behaviour with Nodes.
Godot engine is behind many popular games, and it has excellent compatibility with Linux and supports game export for multiple platforms.
You can also try Godot engine directly in your browser by clicking on the link below.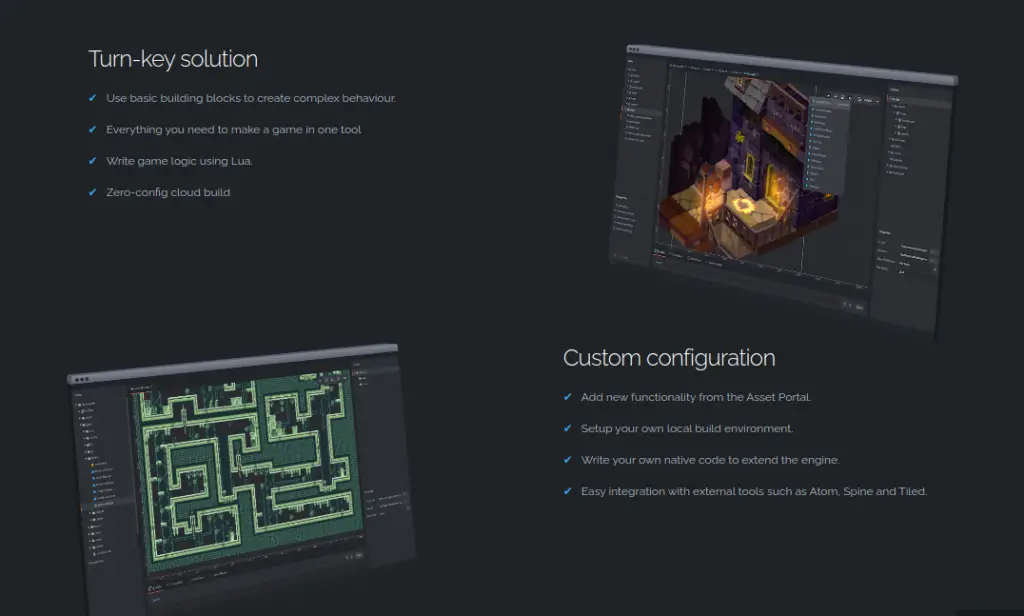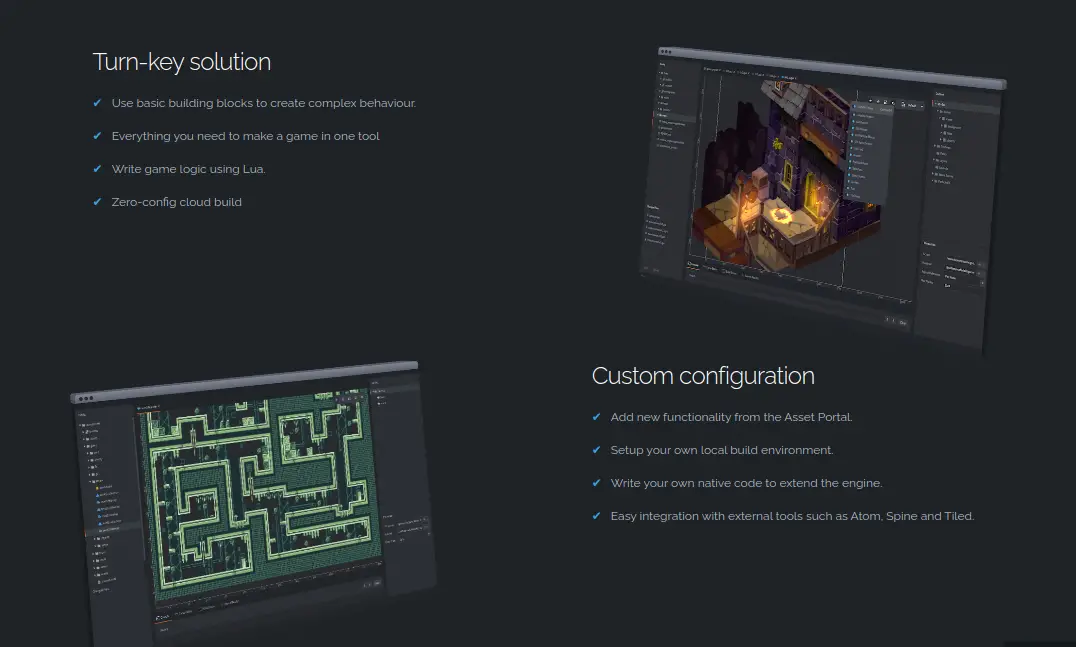 Defold is the ultimate game engine for Web and Mobile. You create your game with Lua scripts in Defold.
It is a fully-featured game engine with an inbuilt Visual Editor, Code Editor, Particle, and Tilemap Editor.
Using Defold, you can build games for Linux, Windows, Web, macOS, Android, Nintendo Switch, and many more platforms.
You get a pretty creative cloud build system with Defold that allows you to compile your game in the cloud; however, if you wish, you can set up a local build environment as well.
Defold is entirely free to use, and if you are an advanced user, you can write your own native code to extend the engine.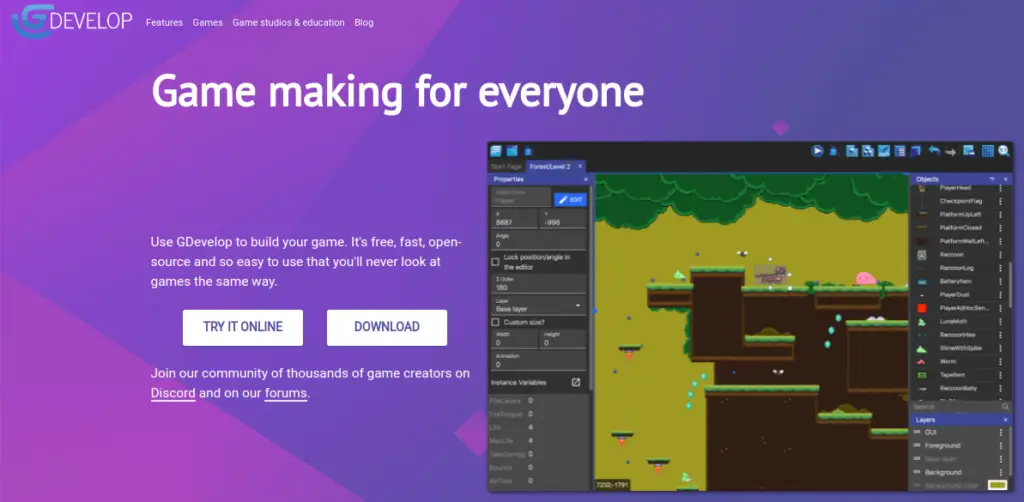 GDevelop is a feature-rich and powerful Drag and Drop game builder. You build your game by dragging assets in different scenes and creating properties for them.
It allows you to easily create and publish 2D games for multiple platforms, including Linux. You can download the GDevelop client on your desktop or directly use it in your browser.
It is best suited for Puzzles, platformers, 8-bit, hyper-casual, and strategy games.
GDevelop has all the features you need in a game engine, including a super-fast 2D physics engine and particle editor.
You can publish your games on Facebook, Steam, Itch.io, Newsground, or export for iOS, Android, Windows, and Linux with a single click.
Launch GDevelop directly in your browser with the link below.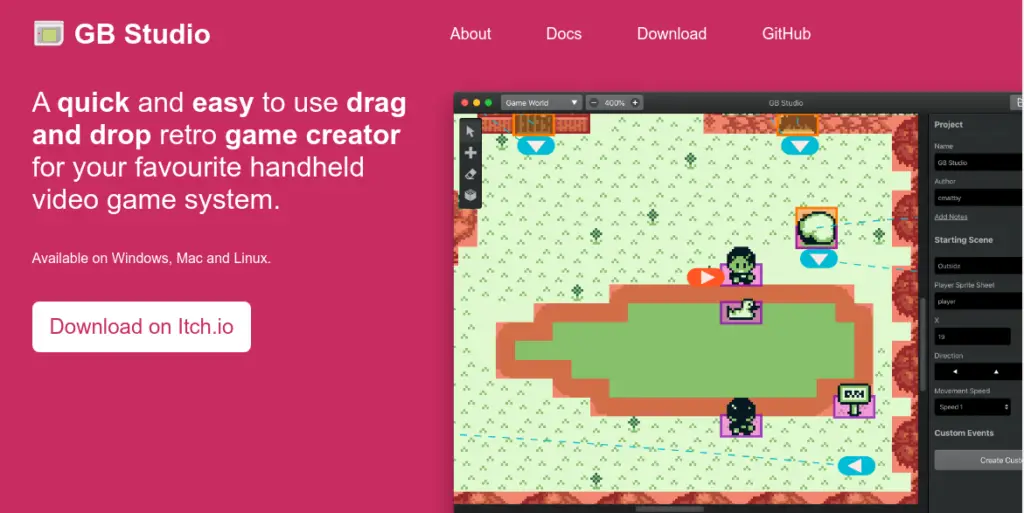 GB Studio is a very lightweight game engine that allows you to create GBA ROMs. It is the first of its kind and requires no programming. The whole logic for a game is created using interconnected objects and nodes.
You can create Pokemon like retro GBA ROMs with GB studio and export them to play on the web, in a console, or a GBA Emulator.
GB Studio is best suited for top-down 2D JRPG style adventure games (+ platformers, point and click games and shoot them ups in GB Studio 2 Beta).
It is completely free to use and in its early stage of development. You can get GB studio on Itch from the link below.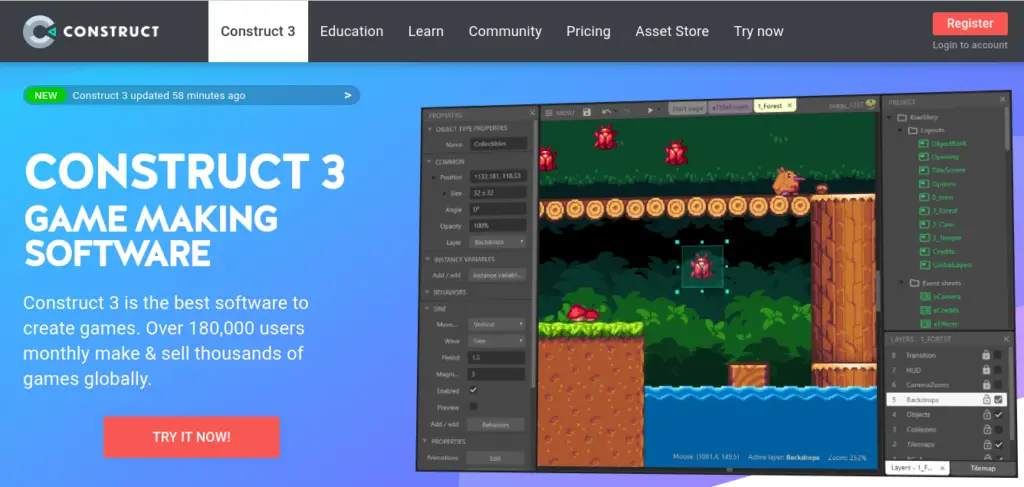 Construct 3 is the latest game creation tool by Scirra. It is easy to use and features a no-code drag and drop game creation system.
Construct 3 is a simple to use but very advanced game engine for Linux and other platforms. You can develop games with Construct 3 and publish them on multiple platforms, including Android, Windows, and Linux.
It has a built in smart ad placement system that allows you to place ads in your game smartly.
Construct 3 is the third installment in the Construct game engines by Scirra. It receives timely updates and upgrades that keep this game engine ahead of its other competitors.
Construct 3 is free with limits. After that, you have to sign up for a monthly subscription. If you can not afford to pay for it, you can use GDevelop, an alternative to Construct 3 for Linux.
Construct 3 runs directly in your browser or offline.
There is a wide range of addons available for Construct 3, and tons of popular and award-winning games are made with it.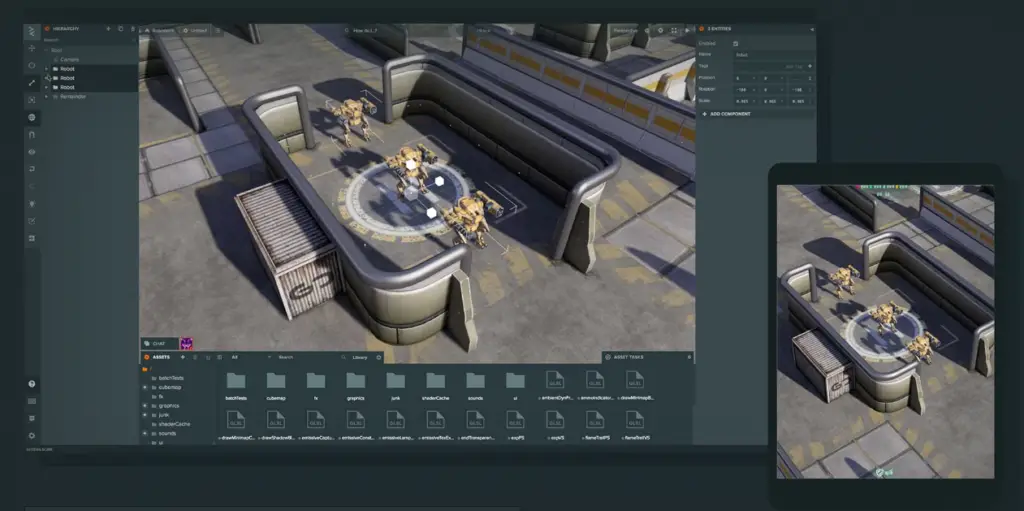 PlayCanvas is an advanced WebGL game engine. With PlayCanvas, you can create interactive VR and 3D games. This game engine runs directly from the browser.
It is free to use but has a premium plan too. You get 1 GB of free hosting for the games you develop on PlayCanvas.
You can develop stunning 3D games with PlayCanavas it is the best game engine if you want to create 3D games for the browser. 
PlayCanvas is Mobile Optimised, and games developed with it work great on mobile devices.
It is very lightweight and loads in your browser efficiently. PlayCanvas is open source. You can take a look at its source code on Github.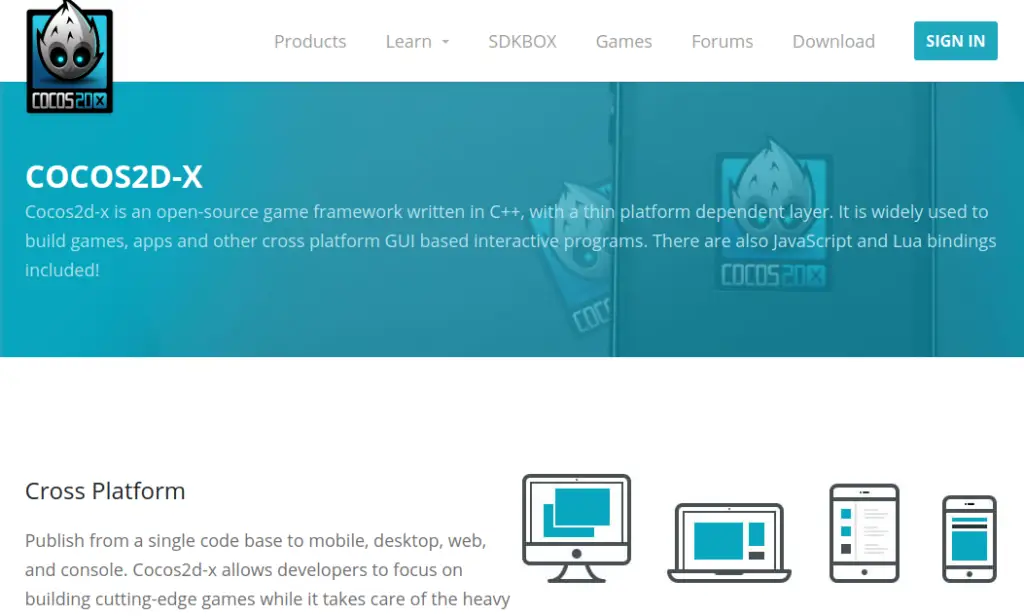 Cocos2d-x is an open-source game framework written in C++, with a thin platform dependent layer. It is widely used to build interactive apps and games for Android. There are also JavaScript and Lua bindings included.
Cocos2d-x is licensed under MIT license and is maintained by the community. It is completely free to use, and you can contribute to its source code as well.
It is fully written in C++ and offers the fastest speed of any other game engine, and is optimised for working on all kinds of devices, including low-end and outdated Android systems.
Cocos Creator is a game engine based on the Cocos 2d-X platform that helps you easily create games with the Cocos 2d-x platform.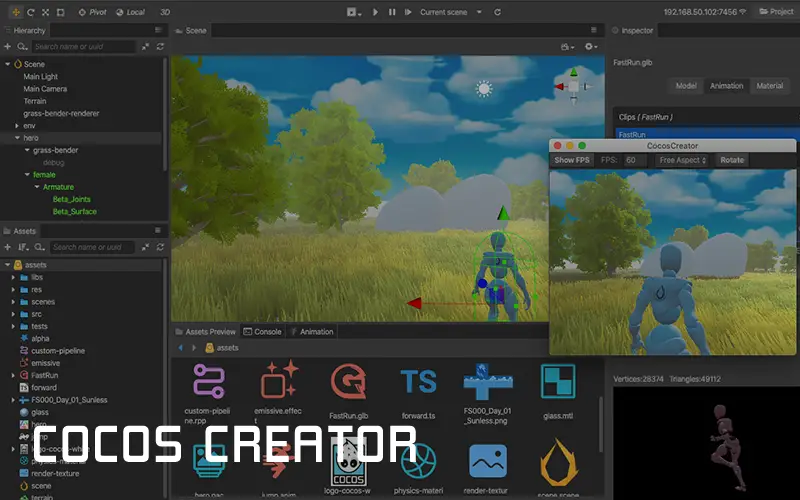 You can use Cocos creator instead to get started with game development using a GUI.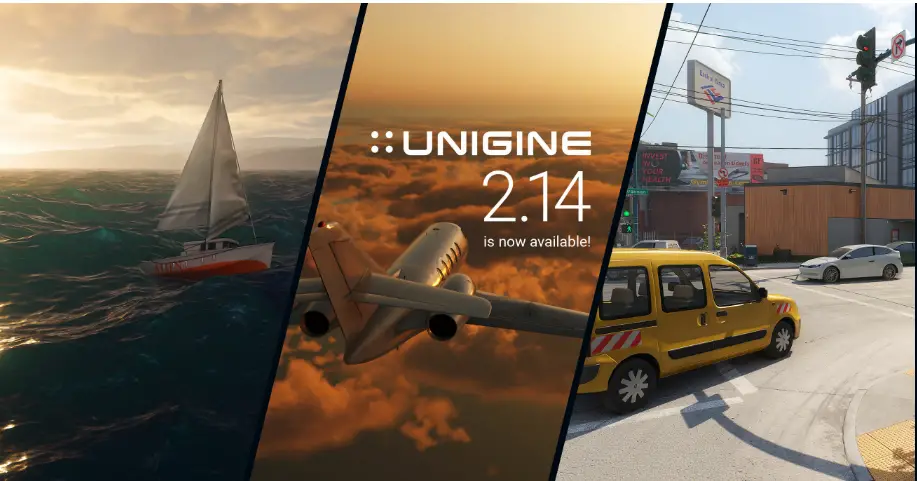 Uniengine SDK is designed for professionals working with Virtual reality and 3D world simulations. It is an enterprise-level solution for VR worlds and 3D artists. However, it can be used for game development as well.
UNIGINE Engine has primarily been used in the enterprise sector since 2005 (simulators, BIM, CAD, digital twins, GIS, urban planning, smart city).
It works well with Linux, and currently, there is only one game made with it for Linux.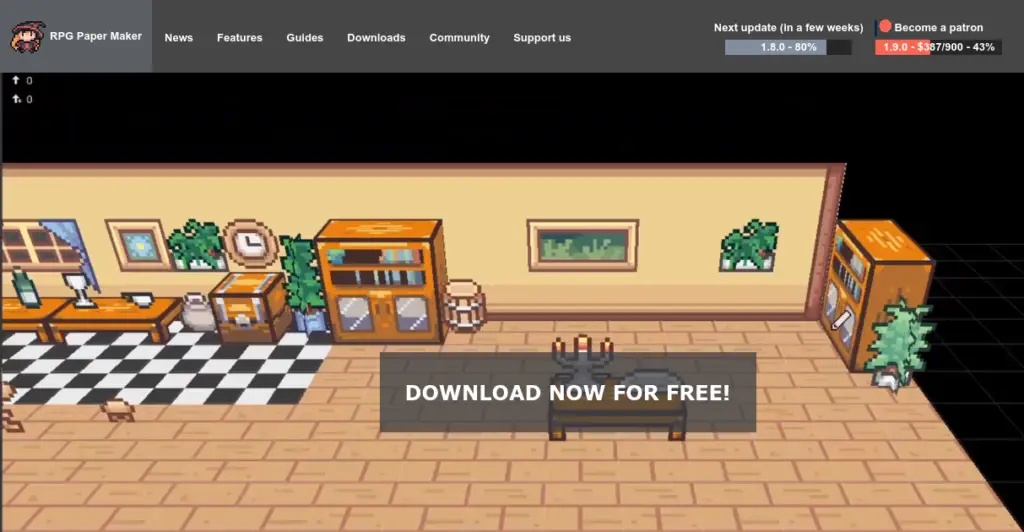 RPG paper maker is an old-school 3D RPG game engine. You can create 3D RPG games easily without any knowledge of coding with RPG Paper Maker.
It is free to use and funded by the community on Patreon.
You can drag and drop your 3D assets in the map editor and start developing your game. It is easy to create RPG games with RPG Paper Maker, even for beginners, but you can create your custom plugins with Javascript if you are an advanced user.
Also, note that you will have to pay $79.99 to publish your game as a commercial.
Image Credits: Official website of respective search engines.