Firefox is regarded to be among the ideal browsers for Linux Mint for a number of reasons. For starters, it is free and open-source. What's more, it is highly secure and offers a number of features that help in the privacy protection of users. Not only that, it is highly flexible to use, and users can use it quite conveniently. For more information about Firefox for Linux Mint, read this article. You can also find out how to install Firefox on Linux Mint versions on your device.
Does Firefox Work on Linux Mint?
There will be a continuation of the distribution of Firefox as the .deb packages via the repositories of Linux Mint. The configuration and the overall building of it are altered for making the Firefox version of Linux Mint more and more identical to the distributing version of Mozilla as well. On the other hand, Linux Mint 20 offers Firefox as its default browser
Is Firefox Good for Linux?
Firefox Browser is considered to be among the best-supported internet browsers, which comes with a compatible license with the commitment of Ubuntu for computer licenses. On the other hand, different Linux distros may usually get shipped with a desktop environment-enabled browser bundle. On the contrary, you might want to anticipate for yourself to install by your own choice. Firefox is generally anticipated as a good browser.
Most of the Linux distributions get shipped with the Firefox browser due to the fact that it is considered user-friendly, just like Linux software itself. While different browsers such as Google Chrome, as well as Chromium, come with good compatibility with Linux Mint, these are usually narrowed down to be looked upon as corporate software.
On the other hand, if you want to have Chromium or Chrome on your Linux Mint device, it is quite accessible to do so.
Why is Firefox Considered the Ideal Browser for Linux?
Firefox browser is considered to be the ideal web browser for most Linux distributions. It is a super-fast program and also offers among the best features for the purpose of protecting the privacy of users. What's more, you are able to turn Firefox into the safest browser in the right settings, just similar to the Tor Browser, which is also technically based on Firefox.
Not only limited to the security point, but Firefox also comes with a number of different integrated functionalities, including VPN, Pocket, breach monitor, and email alias, among many when you are signing in using your Firefox account on your device.
How to Install Firefox on Linux Mint?
There are several ways to install Firefox on Linux Mint. However, here we will see how we can install Firefox on Linux Mint using Snap. Let's see some steps following which you will be able to download Firefox on your device with Linux Mint through the use of Snap.
First of all, you will need to enable snaps. These are the applications that come with their ability to run on different distributions of Linux using a single build. These get updated rather automatically and get rolled back conveniently. These are also discoverable easily, and you can install them from the Snap Store, which is an app store having an audience of a million users.
Snap is accessible for Linux Mint with different versions, including Sonya, Sylvia, Tara, Tessa, and the latest release known as the Ulyana. You may want to figure out which Linux Mint version you have through the operating system info by checking the Preferences menu there. On the 20 version on Linux Mint, the extension /etc/apt/preferences.d/nosnap.pref would be required to be removed prior to the installation of the Snap. You can accomplish this task for removal by following these commands:
Sudo rm/etc/apt/preferences.d/nosnap.pref
Then, go to this command:
Sudo apt update
Now, for installation of the Snap using the application named the software manager, you will need to search snapd and then click on the installation button. On the other hand, you may also want to install Snapd from the following command line:
Sudo apt update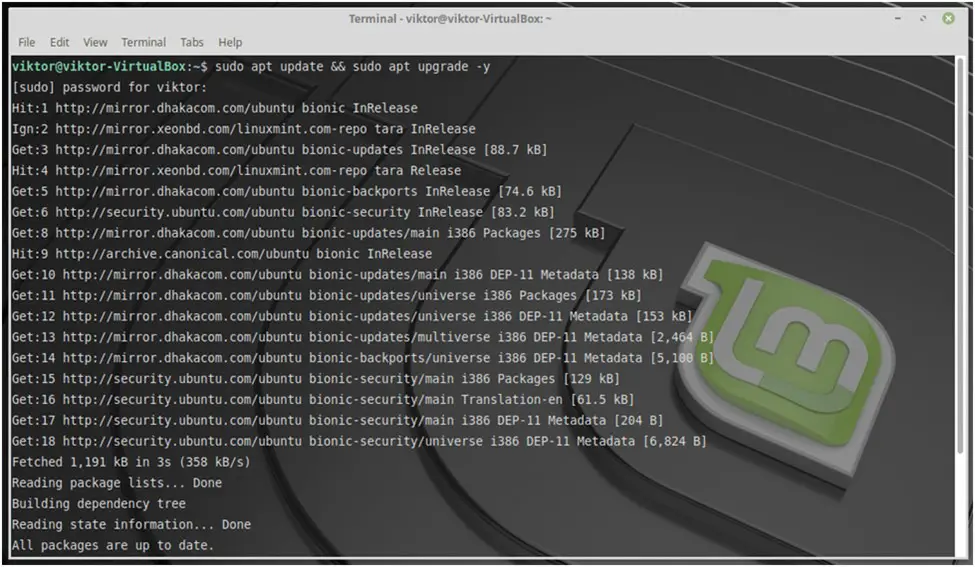 Sudo apt install snapd
You might want to get your machine restarted or simply log out and log in again for completing the process of installation.
Now, you can use the following command to install Firefox on your Linux Mint.
Sudo snap install Firefox

How to know the version of Firefox that you have?
You will need to click the hamburger menu, which is rightly present in the corner above in the latest Firefox version on your Linux Mint. Now, go to the drop-down menu and click the I button. From here, you will need to click the About Firefox button. There will be a small window appearing showing you the release of Firefox's version number and date.
You can also further dive into the release notes by checking the What's New option from there.
How Much Memory Does Firefox Use?
Though every operating system working in the recent hour has now shifted towards the processing of 64 bits system as the standard notion, the default downloading pages of Firefox still target the users to adapt to the version of a 32-bit system. It is mainly due to the fact that the relatively new release for Linux Mint comes with some compatibility issues when it comes to engaging older plugins there. For the users who will require Firefox to get maximum accessibility towards memory as much as there can be, the download page would call for the latest release of the 64-bit system of Linux release.
Final Words
These are all the technicalities about Firefox running and installing on Linux Mint operating system devices. In this article, we checked how we can install Firefox on Linux Mint and what are the different reasons which make Firefox ideal for Linux Mint. We also saw how much total memory would Firefox actually use when it gets installed to Linux Mint in different versions. You can also check which version you are using by clicking the hamburger menu.