Linux Mint 20.1 is a long term support release which will be supported until 2025. It comes with updated software and brings refinements and many new features to make your desktop experience more comfortable.
The Linux Mint 20.1 Ulyssa was released on 8 January 2021 with 3 different desktop environments Xfce, Mate and Cinnamon.
Features: WebApps
Linux Mint 20.1 features web apps managers, an utility that allows you to turn any website into a webapp and use it as if it were an installed application.
Webapps makes your life easier and there are tens of reason to use them. Web Apps are easy to create and you can make as many as you want.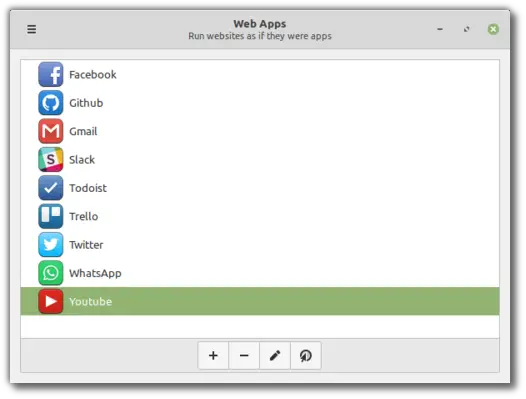 When a Web App runs it behaves like a desktop application. It has its own window and its own icon. It shows up as any other application in the panel and in the Alt-Tab selector.
You can pin it to your panel if you want to be able to access it quickly even when it's not running and it has an entry in your application menu, just like any other apps.
It's easier to multi-task between applications on the desktop than it is between tabs in a web browser. As more and more useful tools are available on the Web, it was important for Linux Mint to make it easier to create web-apps.
In addition to Electron wrappers, Web-apps also provide a solution for tools which do not support Linux very well. WhatsApp, Github among others provide rich Web interfaces but no desktop support in Linux.
Hypnotix
Hypnotix is a live tv player for m3u playlists. Its free to use and easy to manage you can easily watch your favorite tv channels live with Hypnotix on Linux mint 20.1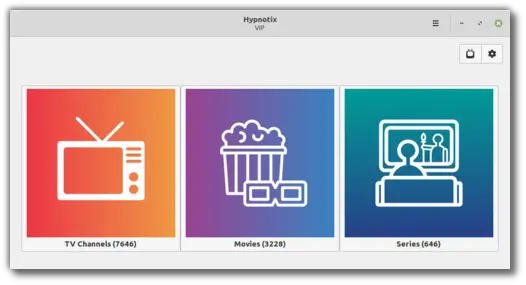 Hypnotix is an IPTV player for M3U playlists. It supports live TV And if your playlist or IPTV provider also has a VOD section, Hypnotix can support movies or even TV series.
By default Hypnotix comes with a free IPTV provider called Free-IPTV. This provider only provides freely and publicly available live TV channels. Linux Mint itself is not an IPTV provider and does not provide any live channels, movies or TV series.
Favorites
Time and time again we need to access the same files. Up until Linux Mint 20.1 we would remember where they were stored and slowly get to them using the file manager, bookmark their containing folder to get to them faster, look in the recently opened document section, hoping to find them in there, clutter our desktop with direct links…
Well, there's a much better way now! If you're working on a file and you know you access it often, right-click it and select "Add to Favorites".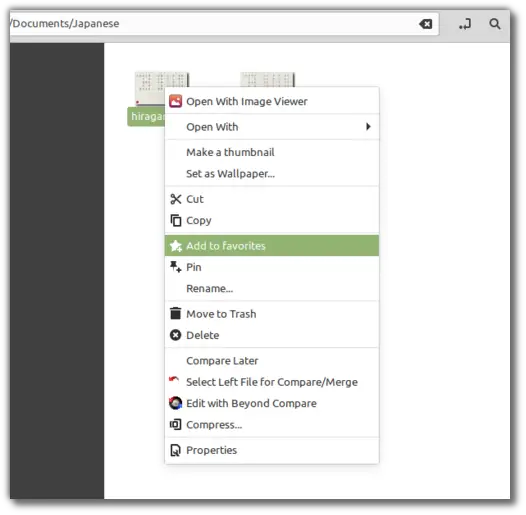 You'll see a little star pop up in your panel. That's where all favorite files are, just one click away. You'll also find them in your application menu.
Your file manager now also has a dedicated section, where you can access but also manage your favorites.
And that's it! Your favorite files are now really easy to find!
Support for favorites also extends to Xed, Xreader, Xviewer, Pix and Warpinator. These applications include menus, sidebar items or widgets dedicated to favorites.
File chooser dialogs in all GTK3 applications also have a favorites section.
Favorites is part of libXapp so it can be supported very easily by any GTK application or desktop environment.
Favorites do not rely on file indexation so this doesn't affect the performance of your computer.
Files from removable or remote medias are supported as well.
Cinnamon 4.8
The latest version of Cinnamon features better performance, including a 5% rendering improvement at 4K and lower use in its window management and a faster Javascript interpreter based on MozJS78.
Support for spices is also improved thanks to automatic forward compatibility with newer releases of Cinnamon, automatic multi-versioning and better network handling.
Search results in the application menu are now sorted by relevance.
Support was added for Systemd's "suspend-then-hibernate" mechanism.
Other improvements include:
Better Flatpak support
Percentage in the sound volume OSD
The option to always show the panel when the menu is open
Scrolling in the window-quick-list applet
Configurable scrolling direction in the workspace-switcher-applet
The ability to assign a keybinding to mute the microphone
Zstd support in nemo-fileroller
Tiff support and PDF page numbers in nemo-media-columns
Thumbnails for files up to 64GB in nemo
Other improvements
Hardware video acceleration is now enabled by default in Celluloid. On most computers this results in smoother playback, better performance and reduced CPU usage.
The driver manager was migrated to PackageKit. It features a stronger resolution of package dependencies and its user interface was improved.
Some projects such as mintsystem and mintdrivers are now backported to earlier releases and contain their own translations.
Chromium was added to the repository.
More projects were ported to the Meson build system: cinnamon-control-center, cinnamon-settings-daemon, nemo-extensions.
The upload manager, mintupload, features better a looking user interface and a better drop zone.
You can see a full list of new features and other improvements here
Upgrade to Linux Mint 20.1 Ulyssa
Now let us upgrade to Linux Mint 20.1, follow these instructions step by step to upgrade to the latest version of linux mint.
Create a Timeshift backup
Open Timehift and create a new backup, if anything goes wrong we will be able to restore using this backup.
The backup process will take some depending on your system files.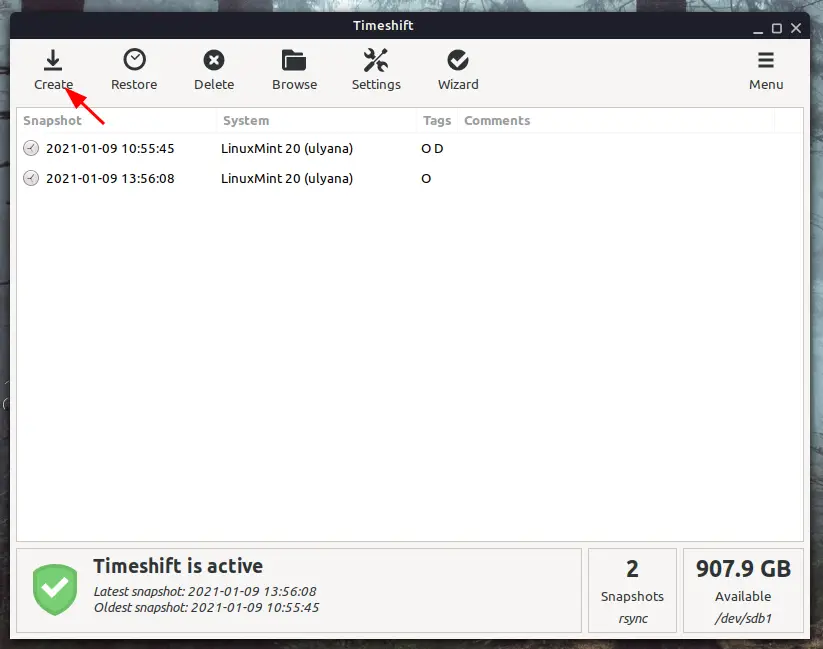 Once the backup is done, proceed to the next step.
Update the Update manager
When you open the Update manager you will get a notification that a new version of the update manager is available and is ready to be applied.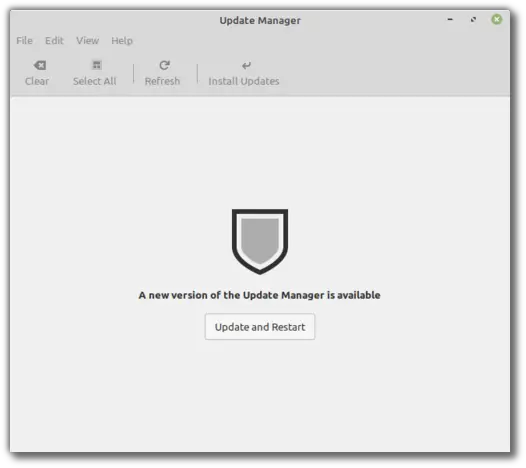 Click on Update and restart , this will restart update the update manager and restart it.
Now if you see any pending updates then apply those before upgrading to Linux Mint 20.1, once done proceed to the next step.
Start upgrading to Linux Mint 20.1
Open the Update manager and click on Edit then click on Upgrade to "Linux Mint 20.1 Ulyssa"
Now a new window will pop open, you can see all the details about Linux mint 20.1 here. Click on Next to continue.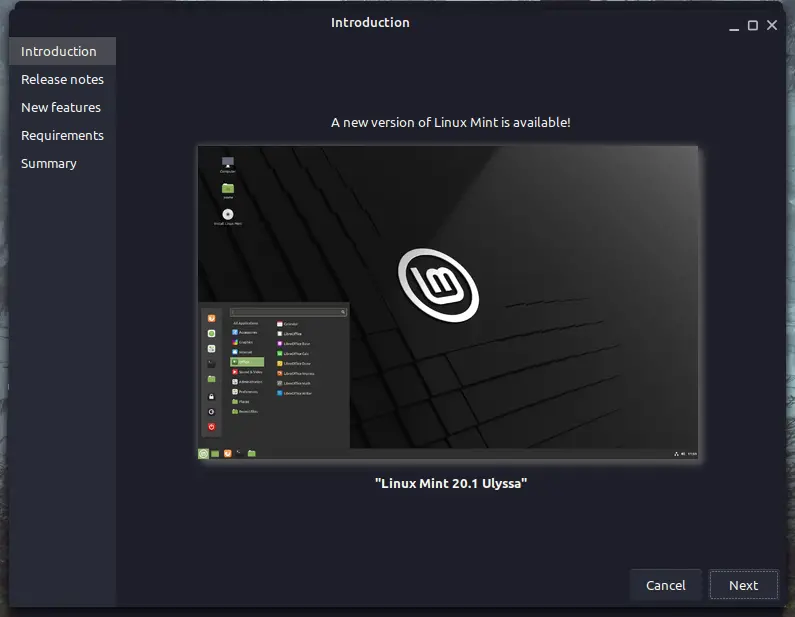 Now it will ask you to read the Release notes, if you are interested then click on the link to read the release notes or else click on Next to continue.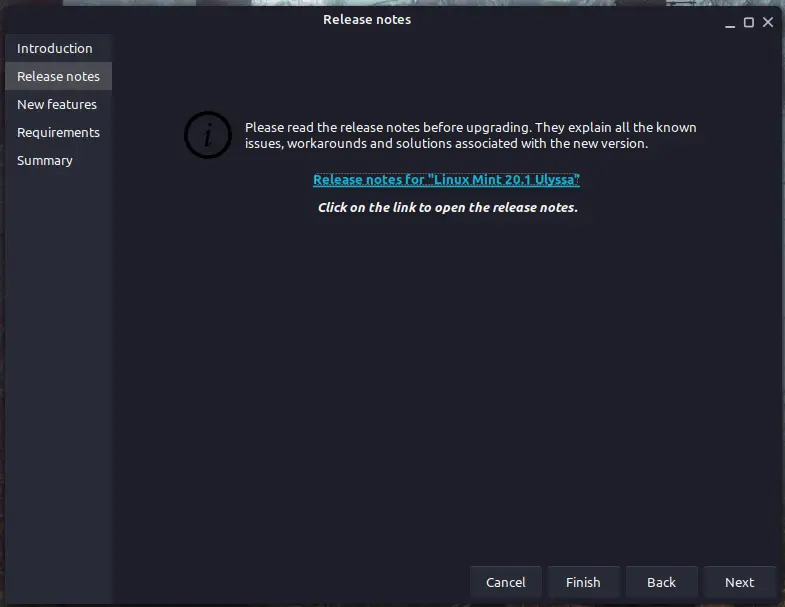 Now it will notify you that their might be bugs in the new version. DO not worry, it is safe to upgrade so click on "I understand the risk" and click Apply.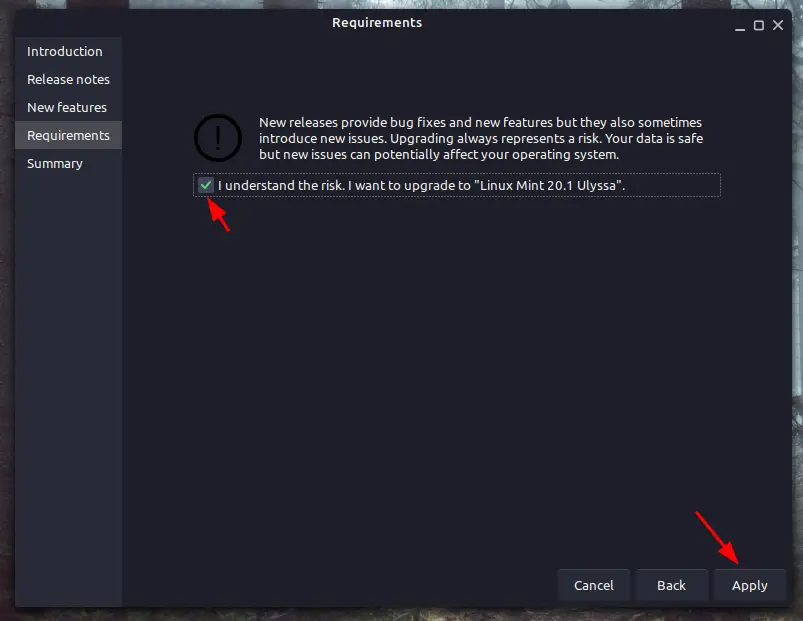 It will now ask for your password, fill in your password and clikc on Authenticate.
It will now start downloading files for Linux Mint 20.1 Ulyssa, do not interrupt this download.
The download process will depend on the speed of your internet connection.
It will download approx 150-200 MB of files.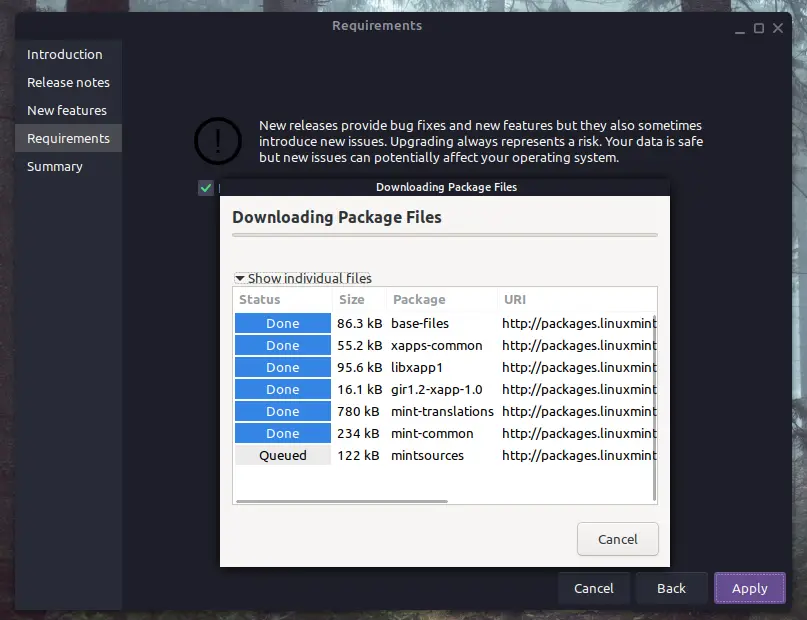 Once the download is finished, it will start installing Linux mint 20.1
The download process took me roughly 10 minutes to finish. The installation process takes very little time.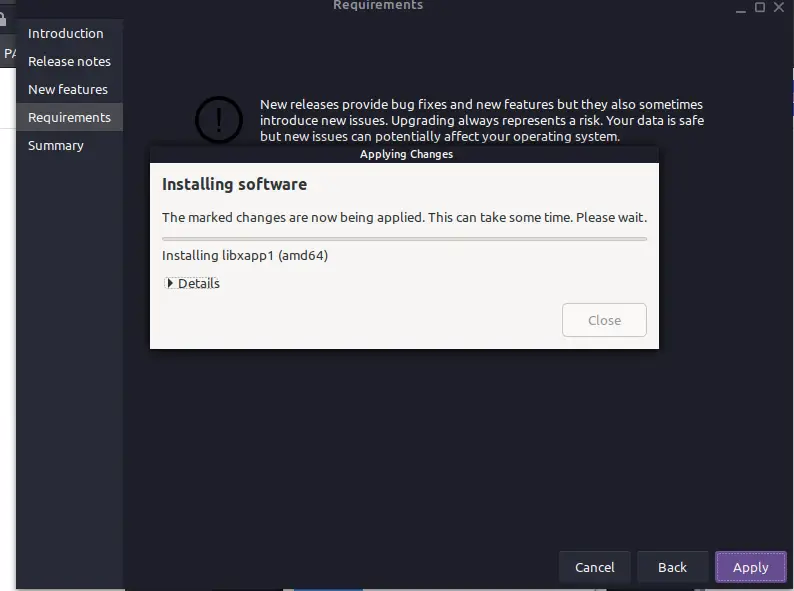 As you can see we have successfulyl upgraded to Linux mint 20.1, However, do not reboot yet and procceed o the next step.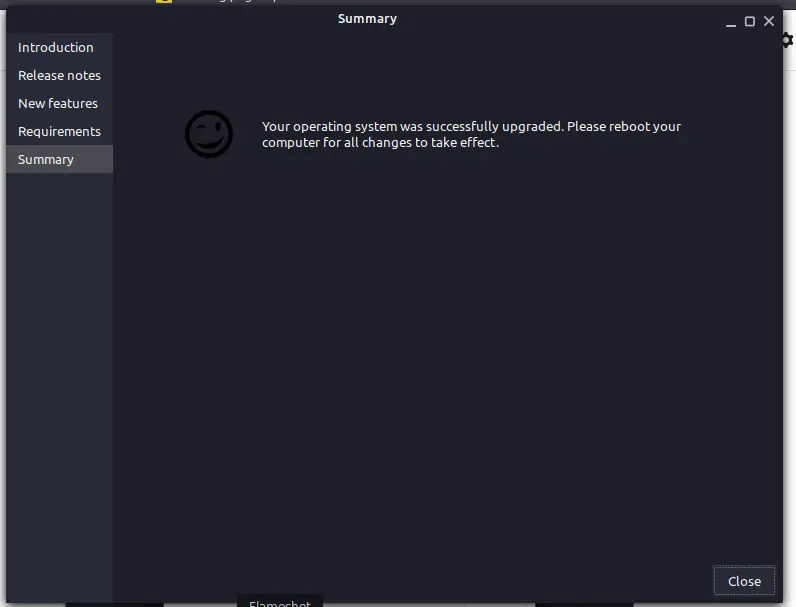 Install Usermerge
Now open a terminal window and run the following command:
sudo apt install usrmerge
Select Yes with arrow keys on your keyboard and press Enter.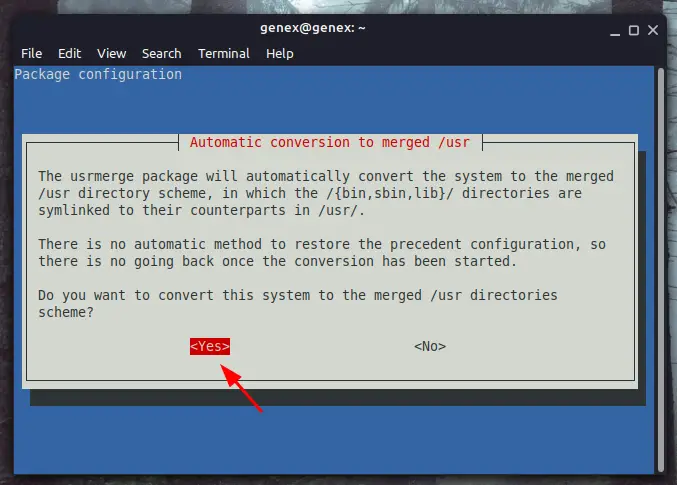 You can see now, that the process is completed.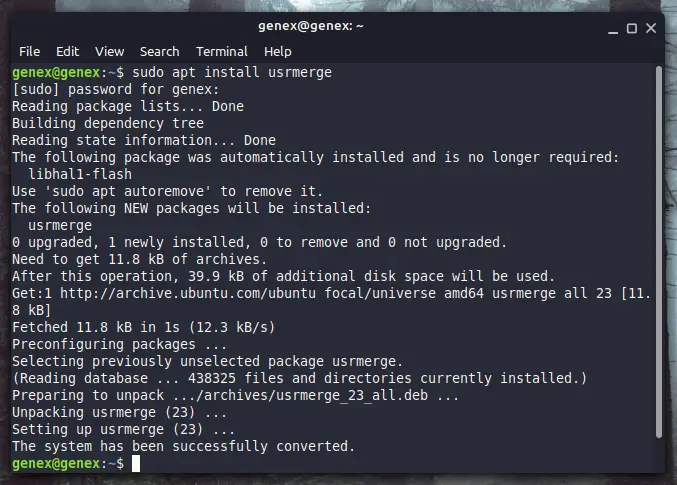 Reboot Your system
Now reboot your system from the menu or run the following command in the Terminal.
sudo reboot now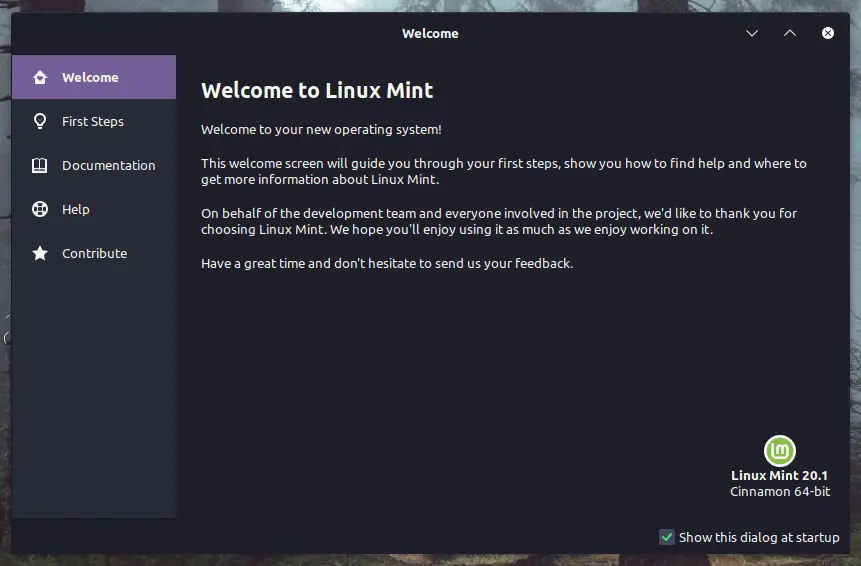 Conclusion
Congratulations, you have successfully installed Linux Mint 20.1 on your system now.
You can now play around with Web apps or Hypnotix. Drop your thoughts on Linux Mint 20.1 in the comments below.
SOURCE: Information taken from linuxmint.com with all due respect.
Also check this amazing live wallpaper software for your latest Linux installation.